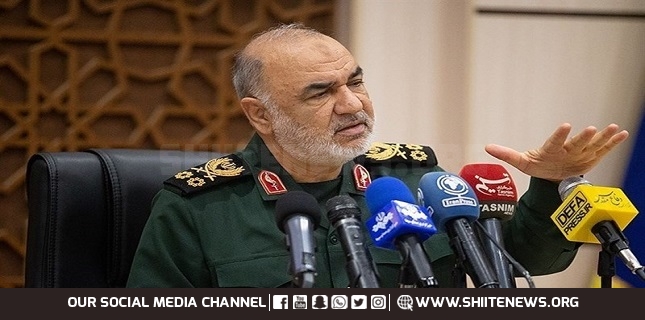 Chief commander of the Islamic Revolution Guards Corps (IRGC) Major General Hossein Salami says Palestinian youths are adapting to new reality in Gaza, where Israel and the US are facing a "quagmire".
"Palestinian youth are adapting to the new conditions and have just learned the rules of the war. They have created a quagmire for America and Israel not only on the battlefield but also in politics, intelligence and security," he said in the central Iranian city of Isfahan on Thursday.
Gen. Salami said Israel must expect more surprises like Operation al-Aqsa Storm which saw Palestinian resistance fighters overrun occupied territories in the single worst event in the history of Israel.
"Just as the al-Aqsa Storm came from a place the enemy did not calculate, they must wait for other storms that will reach them from where they do not think," he said.
"The Muslims of the world today are more empathetic than ever, and even in the non-Muslim world a world stands against America and its partners," Gen. Salami added.