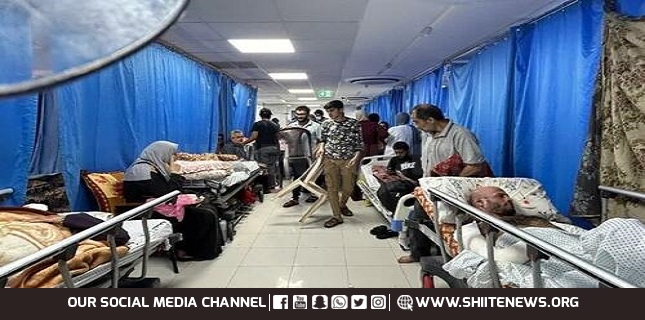 The general director of hospitals in the Gaza Strip says Israeli troops have fired at people inside the al-Shifa hospital during their raid on the largest medical complex in the besieged enclave.
Munir al-Bursh said that those targeted were trying to leave the hospital corridor, which was earlier declared as safe to exit.
"Not a single bullet was fired from inside the hospital during the occupation forces' storming of the complex," he told the Al Jazeera TV network on Wednesday,
Bursh also said that Israeli soldiers entered the surgical and emergency buildings located within the al-Shifa hospital complex and searched its basement.
Earlier on Wednesday, the Israeli military announced that it was "carrying out a precise and targeted operation" inside the al-Shifa hospital.
Reports said the occupation soldiers, tanks and bulldozers entered the facility, where around 7,000 people are sheltering, along with 1,500 patients and medical staff.
The Palestinian Hamas movement issued a statement in response to the occupation's crimes in al-Shifa Hospital early on Wednesday morning, saying, "We hold the occupying regime and its neo-Nazi leaders and US President Joe Biden fully responsible for the consequences of the attack on al-Shifa medical complex."
The Palestinian resistance movement Islamic Jihad said, in a statement, that "the United States is complicit in the occupation's crime in al-Shifa hospital. The occupying regime, which had no military achievements in Gaza, wants to take revenge on civilians and patients."
Hospital raid 'crime against humanity'
The Palestinian Authority's Health Minister Mai al-Kaila said that Israel was committing a "new crime against humanity, medical staff and patients" by carrying out a military operation inside the hospital.
"We hold the occupation forces fully responsible for the lives of the medical staff, patients and displaced people in al-Shifa," she said in a statement published by the Palestinian news agency WAFA.
The raid, Kaila noted, could have "catastrophic consequences" for patients and medical staff.
Israel alleges that Hamas has built its headquarters in bunkers and tunnels under the al-Shifa hospital, a claim rejected by the Palestinian resistance movement and hospital staff.
"We don't know what they will do to us. We don't know whether they will kill people or terrorize them. We know all the propaganda is lies, and they know as well as we do that there is nothing at al-Shifa Medical Centre," said Ahmed El Mokhallalati, a surgeon inside the al-Shifa hospital.