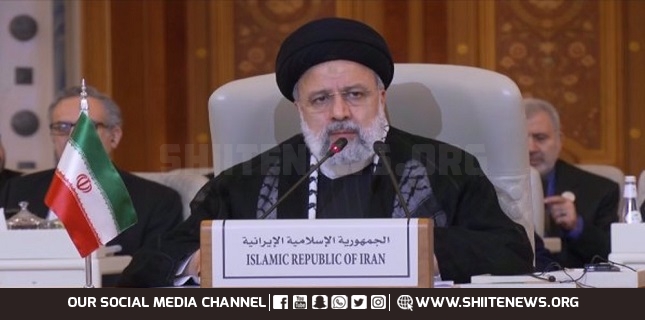 President Ebrahim Raeisi of Iran says the Israeli regime must be brought to justice in international courts over its genocide of the Palestinian people in the besieged Gaza Strip.
Raeisi made the remarks while addressing the joint emergency meeting of the Arab League and the Organization of Islamic Cooperation (OIC) on the issue of Gaza in Riyadh, the capital of Saudi Arabia, on Saturday.
The Iranian president said the crimes committed by the usurping Zionist regime in recent weeks have brought shame on a historical scale to morality, law and humanity.
Raeisi said the US government was the mastermind and main accomplice in the crimes of Israel.
"Now that the international assemblies under the influence of the United States are suffering from indecisiveness, and lack of character and identity, we must take the field."
The president said the Arab and Muslim countries shoulder the responsibility towards the issue of Palestine and the oppressed people of Gaza.
Raeisi proposed Iran's 10 urgent solutions and suggestions for the benefit of the Palestinian nation.
(This item will be updated.)