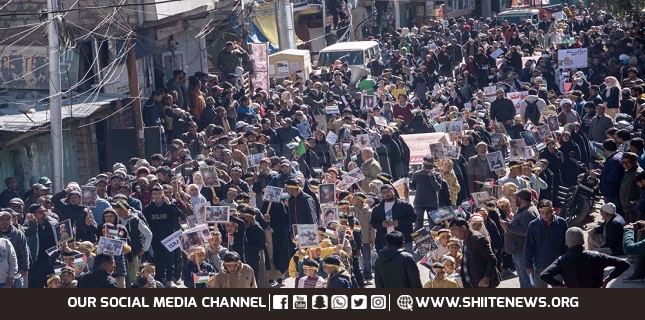 Thousands of children in Kargil, a small city in the Ladakh union territory of northern India, took to the streets on Monday to condemn the Israeli regime's genocide in Gaza, especially the killing of children.
Coming from different parts of the mountainous Shiite-majority district, their collective voice roared against the ongoing massacre of innocent children in the besieged Gaza Strip by the Israeli regime.
Carrying the flag of Palestine and images depicting the unspeakable horror unleashed on Palestinians, they chanted vociferous slogans such as "Down with Israel," "Down with America," and "We stand with Palestine."
The demonstration was organized by Baseej-e-Ruhanion, the clergy wing of Imam Khomeini Memorial Trust, Kargil, and saw the participation of students from more than 70 Darul-Qurans (evening religious schools) scattered across the district with a population of more than 100,000 people.
The rally commenced from Fatima Chowk and passed through busy and bustling streets of the district, and finally culminated at Lal Chowk, the city's nerve center.
Young students delivered passionate speeches during the rally, denouncing the Israeli war crimes in Palestine and calling for an immediate ceasefire and an end to the occupation and apartheid.
They also prayed for the victory of the Palestinian resistance against the illegitimate Zionist entity.
One of the speakers, a young school student, urged the international community and global human rights watchdogs to hold the Israeli regime accountable for its heinous crimes in Gaza.
Another young speaker demanded the rightful return of usurped Palestinian lands to its rightful owners.
Like other parts of the world, the mountainous city of Kargil, situated at a distance of 204 km from Indian-administered Kashmir's summer capital Srinagar, has seen a series of protests in recent weeks in solidarity with the oppressed people of Palestine.
It comes as the death toll from the Israeli bombing campaign in the besieged Gaza Strip has reached more than 8,000, most of them children and women, according to Gaza's health ministry.
The Israeli military has even bombed hospitals and places of worship in the coastal territory, which human rights advocates say amounts to genocide.