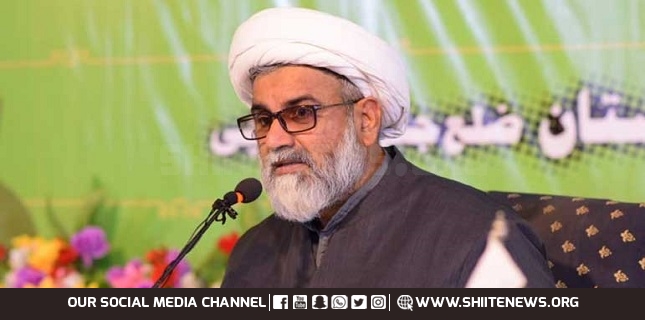 Shiite News: On the occasion of martyrdom of Hazrat Imam Hasan Askari, the eleventh bright star of Imamate and Wilayat and heir of the Holy Prophet (AS), Chairman Majlis Wahdat Muslimeen Pakistan, Allama Raja Nasir Abbas Jafari offered his condolences to all the Muslims of the world.
Allama Raja Nasir Abbas Jafari said that for the protection of religious beliefs, scholarly struggle, answering the doubts of opponents, propagating correct Islamic thoughts and ideas and taking secret political measures, during his time he provided financial support to Shias and especially close associates.
The life of Imam AS was a great example of love, patience and gratitude to God the Merciful.
He said that the strengthening of the Shia elders and the maturity of their political ideas to face the government pressure and difficulties, the intellectual stability of the Shias and the extensive use to convince the deniers of the Imamate for the appearance of his son, the twelfth Imam AS. He did the most adventurous things like mentally preparing his devotees.
Allama Raja Nasir Abbas Jafari said that during the era of Hazrat Imam Hasan Askari (AS) the conditions were not suitable and due to the strict restrictions imposed by the government of the time, he had serious problems in promoting his extensive knowledge in the society.
The interaction with well wishers was very difficult, but despite all these restrictions, he trained such students who played an effective role in spreading the teachings of Islam.
He said that his spiritual prayers and supplications gave the life of godliness to the hearts suffering from worldliness. People who were afraid of Imam Hasan Askari (AS)'s high character and pure personality kept him in custody in cantonment neighborhood and finally he was poisoned to cut off the divine and universal message of light and guidance.