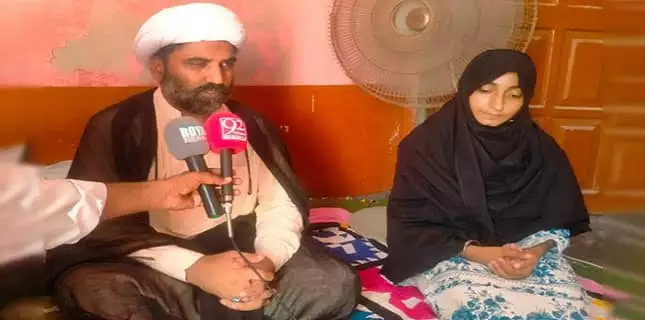 Shiite News: Majlis Wahdat Muslim Pakistan Central Secretary Organization Allama Maqsood Ali Domki and Provincial President Allama Syed Zafar Abbas Shamsi condoled with the family of Shaheed Imdad Hussain Joya in Awsta Muhammad.
On this occasion, Imdad Hussain Joya's daughter Arbab Joya said that my father was the target of powerful Nawabzadas all his life.
After a lifetime of stumbling for justice, he was brutally murdered and his body was humiliated and desecrated. Now influential people are threatening to kill me and my orphan brothers.
Speaking on this occasion, Allama Maqsood Ali Domki said that Majlis Wahdat is a party supporting the oppressed Muslims.
We are the followers of Hazrat Ali (AS). Who had advised to be the enemy of the oppressor and the helper of the oppressed.
Speaking to the media on this occasion, he demanded that justice should be done for the blood of Imdad Hussain Joya and taking note of the threats received by his daughter and heirs, they should be provided full protection. Murderers of Imdad Hussain should be brought to the justice as soon as possible
He said that those who threatened to kill Shaheed Imdad Hussain Joya's orphan daughter not brave. In Pakistani society and Baloch society, women are looked upon with respect. Threatening to kill women by blocking their way is sad.