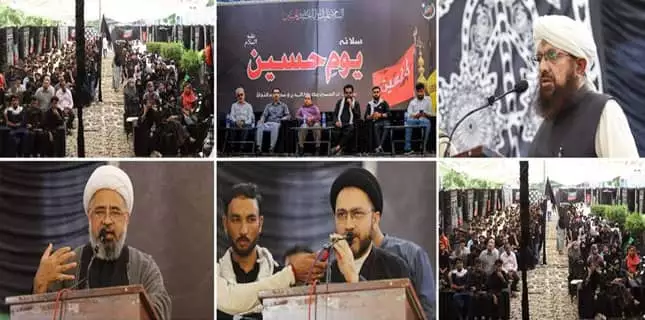 Shiite News: Annual Hussain Day was organized under the auspices of Imamia Students Organization (ISO) Karachi Urdu University Unit (Gulshan Campus).
The annual Hussain Day ceremony was addressed by renowned religious scholar Allama Syed Shahenshah Hussain Naqvi, head of Ummat-e-Wahida Pakistan Allama Muhammad Amin Shaheedi, renowned religious scholar and researcher Mufti Syed Shahryar Dawood and Dr. Muzaffar Hussain Rizvi were among other eminent scholars.
Different Noha and Naat reciters also presented their devotions. A large number of teachers including male and female students participated in Hussain Day.
Speaking on Hussain Day, the speakers said that the purpose of Imam Hussain's unparalleled sacrifice was the survival of the religion of Muhammad (peace be upon him) and the greatness of Islam.
"This movement of mine to reform the affairs of the followers of my grandfather, eradicate corruption, undertake enjoining to do good and restraining from evil and follow the tradition of my grandfather, the Prophet of Allah and my father, Ali". Imam wrote in testament.
He further said in his address that Yazid of time has raised again, and brutality killing the Muslims .
He said that the great sacrifice given by Imam Hussain (AS) in the path of Islam will always be remembered and this sacrifice will be a source of strength for the oppressed of the world until the Day of Judgment.
Addressing the annual Hussain Day, the speakers further said that Imam Hussain (AS) had actually denied the Yazid of every era by refusing the oath of falsehood. The air position can then be obtained.