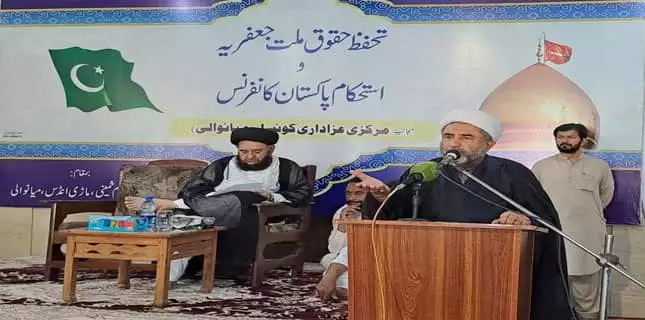 Shiite News: Central Vice President, Shia Ulema Council (SUC) Pakistan, Allama Arif Hussain Wahidi, addressed a conference titled "Tahaffuz Huqooq e Millat e Jaffaria aur Istehkam e Pakistan" held in renowned seminary Jamia Imam Khomeini Mianwali.
The program was chaired by Allama Syed Iftikhar Hussain Naqvi, in which a large number of Ulemas, Zakireen and notables of the district were present.
In his speech, Allama Arif Wahidi mentioned the great role of the Shi'ite school in history and the sacrifices and achievements against the enemies, and said that compared to the rule of Banu Umayyad and Banu Abbas, Shi'ism proved that Shiite cannot be defeated with oppression and imprisonment.
The Yazidi force that committed the world's biggest terrorism against the grandson of Prophet Imam Hussain (AS) in 61 Hijri could not wipe out the mission of Ahl al-Bayt (AS) and the world saw that sacrifice prevailed over the sword.
So how will these Yazidis can dominate in today's era?
Allama Wahidi, while talking about the leadership of Shia, said that Allah Almighty has given us a special grace that he has given us sincere leadership in every era.
He further said that Alhamdulillah we have always prevented the conspiracies of those who made Pakistan a sectarian country with a successful strategy.
We are present in the country as the great patriotic force of Pakistan, how can any law be made without our consultation, our leadership is the founder of Ittehad bain ul Muslimeen.
Shia-Sunni should continue to play their role for Ummah and for the success and security of the beloved country.