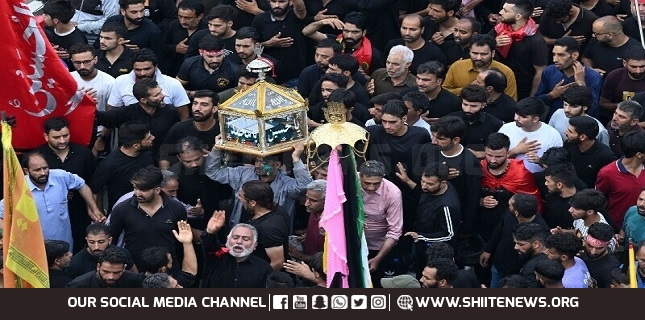 Thousands of Shia Muslims marched through Srinagar on Thursday for a major religious procession permitted in the Indian Illegally Occupied Jammu and Kashmir (IIOJK) for the first time since a ban was imposed decades ago.
The Islamic calendar is currently in the month of Muharram, the holiest time for Shias across the world when large processions mark the martyrdom of the Prophet Muhammad's (PBUH) grandson Hussain (RA) in the seventh century.
But authorities in IIOJK had banned the traditional ceremony in 1990, the year after an armed revolt against Indian rule erupted in the disputed region.
Since imposing direct rule on the territory four years ago, Indian Prime Minister Narendra Modi's government has been eager to claim improved security in the territory after decades of unrest.
Top police officers and administrators walked alongside mourners who marched through the streets of Srinagar beating their chests and waving flags, following several rounds of negotiations between officials and clerics to allow the march to proceed.
"This is a dividend of peace," the city's top administrator Mohammad Aijaz told reporters after the procession concluded without incident.
Some small Muharram processions have been permitted in the occupied territory since the 1990 ban but often ended violently, with mourners shouting slogans demanding independence and government forces dispersing crowds with tear gas and pellet-gun fire.
Shia Muslims are a minority in mostly Sunni Kashmir but authorities believe they account for at least 10 per cent of the region's population of nearly 14 million.
This year's procession was by far the largest in a generation and the first time many of those who joined were allowed to participate.
Authorities allowed the procession on condition that mourners would not use "anti-national slogans or propaganda" or display any references to rebel groups and "banned organisations".
Decades of unrest
Tens of thousands of civilians, soldiers and rebels have been killed in IIOJK since the outbreak of an insurgency against Indian rule in 1989.
Insurgent groups demand independence or a merger with Pakistan and India has at least half a million troops permanently stationed around IIOJK to keep order.
Modi's government revoked the territory's constitutional guarantees of limited authority in 2019.
Indian tourists have since flocked to the region, cinema halls reopened in Srinagar last year after being shuttered for decades, and in May the city hosted a G20 meeting ahead of a September summit of world leaders in New Delhi.
But critics say that authorities have dramatically curtailed civil liberties in a clampdown on unrest, with ongoing restrictions on journalists, public protests and religious worship.
The region's chief cleric has been confined to house arrest since 2019 and prayers at Srinagar's main mosque remain subject to restrictions on congregation size.
Mansoor Abbas Ansari, a Shia leader and one of the organisers of Thursday's procession, demanded the release of detained religious leaders and called for an end to the capping of congregations at prayer services.
"Only then will the government's claims of peace be proved," he told reporters.