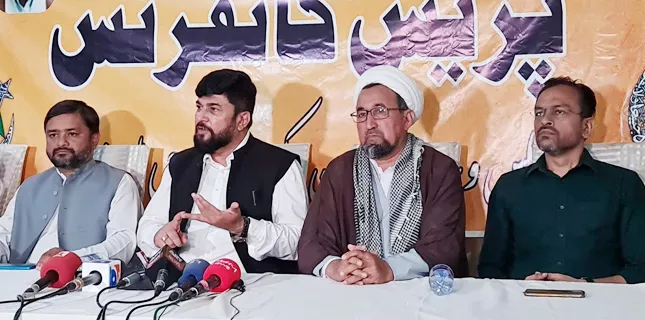 Shiite News: Political Secretary of Majlis Wahdat Muslim Pakistan Sindh province Ali Hussain Naqvi along with Allama Sadiq Jafri, Allama Mubashir Hassan, Asif Safavi, Ahsan Abbas Rizvi, Qaiser Zaidi and others while addressing a press conference at Syed ul Shahada Community Hall Karachi said that it has been the capital city also called the commercial capital of Pakistan, but if we look at the crimes committed here, there is no harm in calling it the "capital of crimes".
The increasing street crime in the city of Quaid is a question mark on the efficiency of the security agencies.
The current situation of the country, political instability, economic crisis, natural calamities, enormous inflation, non-provision of basic facilities have broken the back of the people, on the other hand, the people are suffering from street crime.
The leaders said that it seems that instead of the rule of law in the city areas, criminal elements are ruling, precious lives of citizens are being lost on the streets by street criminals, citizens have lost 24 thousand 161 motorcycles in the last five months.
More than 30 citizens lost their lives, most of whom were the sole breadwinners of their homes, last month in Korangi district, well-known mourner Syed Safdar Shah and his young son Azhar Shah were killed in Korangi, whose killers are not still arrested.
The leaders said that looting incidents cross all previous limits and law enforcement agencies like police, rangers and others seem helpless to prevent crimes, especially in Korangi and Malir districts early morning in schools, colleges.
There has been an increase in the number of robberies, especially among women passers-by, who have left their homes to run factories and other errands. At the end of every month, the CPLC report is issued to express the performance of the provincial government and law enforcement agencies.
He said that the CCTV footages of various crimes have also come to light, but no action is taken against the people involved in them.
Killers of the citizens should be immediately arrested, Korangi district has become a hotbed of crime, SSP Korangi should be suspended immediately, until the criminals are brought to justice.
Until then, lawlessness will prevail in the city, the government and law enforcement agencies should control street crimes, otherwise people will protest, which is our constitutional and democratic right.