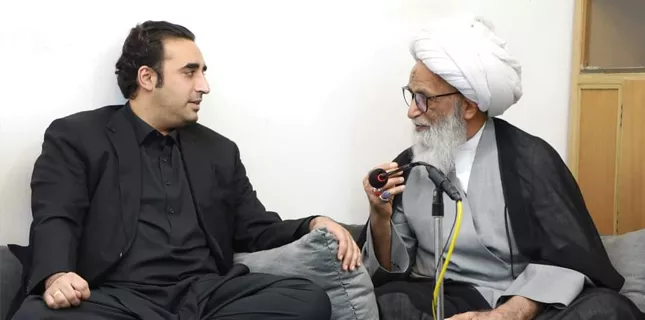 Shiite News: Marjay Muslimeen Hazrat Ayatollah Hafiz Bashir Hussain Najafi welcomed the Minister Foreign Affairs Bilawal Bhutto Zardari and his delegation in the central office at Najaf Ashraf.
He stated that Islamic countries should make efforts to further promote mutual relations and their positions should also be united in the problems faced by the Muslim Ummah.
While emphasizing on the further development of mutual relations between Iraq and Pakistan, Ayatullah Hafiz Bashir Hussain Najafi said that both countries should make joint efforts to further improve mutual relations, keeping in mind the interests of both countries and the people there.
He emphasized on further improving the economic relations between the two countries and said that this will promote the economy and trade of both countries and it is good for the people of both countries.
Marjay invited the government of Pakistan and officials to pay special attention to the problems related to the people and fulfill their needs, as well as make every effort to fulfill their aspirations and their hopes for the future. They should know that their position is to serve the people and their trust.
He further said that those movements that want to disperse the ranks of the people or allow divisions and extremism to flourish should be resisted.
He further said that all the problems should be resolved and Pakistan's foreign policy should be further improved and an active diplomatic process through Islamic states and Relations with the whole world should be improved.
It should be noted that in this delegation, along with the members of Parliament, Local Government Minister of Sindh Nasir Shah, Information Minister of Sindh Sharjeel Memon, Former Minister Nadeem Afzal Chan, Minister of State and Spokesperson of Pakistan Peoples Party Faisal Karim Kundi,
Included the ambassador of Pakistan and the Iraqi ambassador to Pakistan. On his behalf, the distinguished guest, the Pakistani Foreign Minister Bilawal Bhutto Zardari, thanked Marjay for his warm welcome.