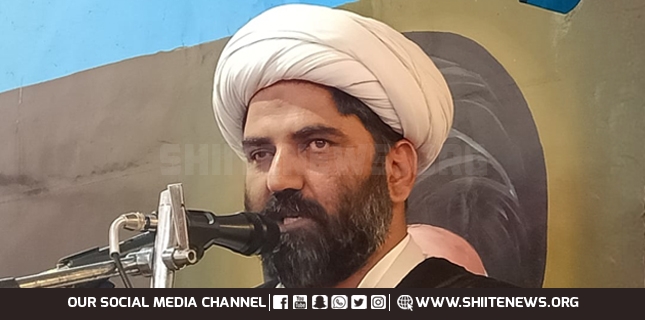 Shiite News: On the occasion of the 34th anniversary of Imam Khomeini, the great founder of the Islamic revolution, an academic session was held at Madrasa Khatam un Nabiyeen SAW Quetta.
The event was presided over by the central secretary of Majlis Wahdat Muslim Pakistan, Allama Maqsood Ali Domki, while the event was attended by Jamaat-e-Islami Balochistan's Provincial Amir, President Mili Yakjehti Council Balochistan, Maulana Abdul Haq Hashmi, Jamiat Ulema-e-Islam Dhonori, Maulana Abdul Qadir Loni, Khana Farhang-e-Islami Director General of the Republic of Iran Syed Mairy, Leader of Majlis Wahdat Muslimeen Allama Syed Zafar Abbas Shamsi, Maulana Sohail Akbar Shirazi, Ayaz Ali Hazara, Nawabzada Aurangzeb Jogezai, Central Leader of Balochistan National Party, former Advisor to Chief Minister of Balochistan Abdul Hadi Kakar, President of Ahl Hadith Balochistan Maulana Fazal Rabi, prominent intellectual and columnist Syed Amanullah Shadizai, former Central General Secretary of the Republican Homeland Party Amanullah Notizai, provincial leader of the World Council of Protection of Khatman Nabuwat Maulana Ataur Rehman Rahimi, Professor Dr. Israr Ahmad Qari, Sajjad Hazara and others participated and addressed.
Speaking on this occasion, Allama Maqsood Ali Domki said that the positive effects of Imam Khomeini's call for unity were established on the whole world.
Maulana Abdul Haq Hashmi said that Hazrat Imam Khomeini (may God bless him and grant him peace) was the leader of the unity of the Muslims.
Maulana Abdul Qadir Loni, the central Amir of Jamiat-e-Ulema-e-Islam-e-Dawori, said that Imam Khomeini established the Islamic government and implemented the Islamic Sharia.
They are not pious scholars who sacrifice religion for their own interests, the ceremony was attended by scholars of different schools of thought, political, social and religious figures and a large number of people.