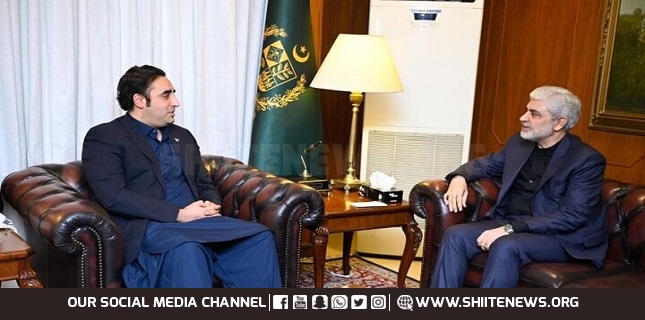 Pakistani foreign minister declared Islamabad's commitment to deepening all-out cooperation with Tehran and hailed the restoration of relations between the Islamic Republic of Iran and Saudi Arabia.
Bilawal Bhutto Zardari made the comments in a meeting with the outgoing Iranian ambassador in Islamabad Seyyed Mohammad Ali Hosseini on Tuesday.
Praising the agreement between Iran and Saudi Arabia to normalize diplomatic relations, the top Pakistani diplomat said, the region will witness positive effects of the development.
Emphasizing the importance of good and close relations between Iran and Pakistan, Zardari added that Islamabad welcomes the expansion of joint cooperation with the friendly country of Iran in various fields.
Referring to the developments in the region, including the situation in Afghanistan, he emphasized the importance of consultations between Iran and Pakistan to help the common neighboring country.
The latest state of economic cooperation between the two countries, the issue of Iran's electricity exports to Pakistan, Iran's gas pipeline to Pakistan among other issues discussed in the meeting.