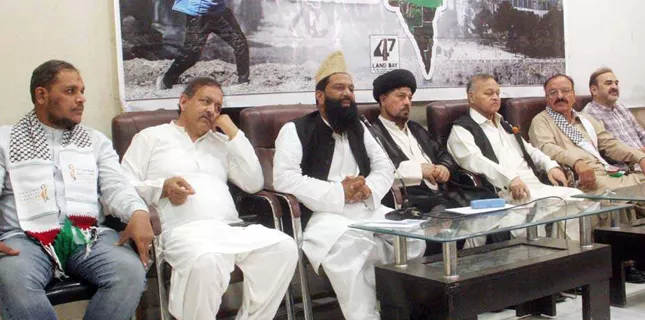 Shiite News: A favorable environment is being developed for Zionist state Israel in Pakistan, under a well-thought-out conspiracy. Addressing a joint press conference at the Karachi Press Club, Abu Maryam said that who has given the right to a Pakistani Jewish citizen to become an ambassador of Pakistan-Israel relations?
Patron members of Palestine Foundation Pakistan (PLF) including MQM-Pakistan former Member of Sindh Assembly Dr. Mahfouz Yar Khan Advocate, Majlis Wahdat Muslimeen Pakistan Sindh President Allama Baqir Abbas Zaidi, Jamiat Ulema Pakistan Sindh President Allama Qazi Ahmed Noorani, former Member Sindh Assembly Major (retd) Qamar Abbas, Pakistan Tehreek-e-Insaf leader Asrar Abbasi, Pakistan Muslim League-N leader Pirzada Azhar Hamdani, Awami National Party leader Younis Boniri, well-known social leader Bashir Sadouzai also participated in Press Conference.
Participants demanded the government to take strict action against such elements. Raised a question mark on the government on the issue of export of Pakistani goods to the usurper state of Israel on behalf of a Pakistani Jewish citizen and said that the government has decided to deviate from the ideals of Natria Pakistan and Quaid-e-Azam Muhammad Ali Jinnah.
He said that strict action should be taken against Pakistani Jewish citizens who export Pakistani goods to Israel.
Addressing the joint press conference, the speakers said that working for Israel in Pakistan is a negation of the ideology of Pakistan. He said that elements working for Israel in Pakistan will block the way with joint efforts.
The speakers said that on the 23rd day of Ramadan, World Al-Quds Day will be observed in Pakistan like the rest of the world.