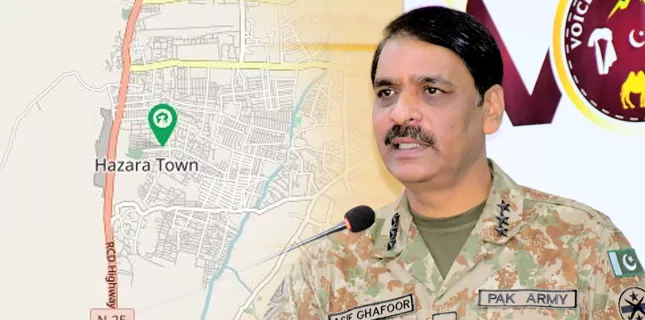 Shiite News: Corps Commander 12 Corps Lieutenant General Asif Ghafoor has said that the people of Balochistan should focus on education and trade instead of guns.
So that they can play a role in the development and prosperity of Pakistan and Balochistan.
He expressed these views while speaking on the occasion of his visit to Hazara town and meeting the tribal leaders and political leaders.
General Asif Ghafoor visited Hazara town along with IG FC Major General Amir Ajmal, IG Police Abdul Khaliq Sheikh, Commissioner Quetta Division Sohail Rehman Baloch, Deputy Commissioner Quetta Shahak Baloch and others.
He met the tribal elders and political elites of the Hazara community and heard the problems faced by the Hazara community.
On this occasion, Balochistan Shia Conference President Haji Jawad, Hazara Democratic Party General Secretary Ahmed Ali, People's Party Engineer Hadi Askari, BNP's Neemat Hazara, Tehreek Nafeez Fiqh Jafaria Tariq Ahmad Jafri, Anjuman Tajran Nisar Ali Nasir, PTI's Akhtar Jafri and others were present.
They apprised the Corps Commander about the problems faced by Hazara town in making identity cards, passports, besides the problems faced by those bringing vegetables from Hazarganji and water scarcity.
On this occasion, Corps Commander Lieutenant General Asif Ghafoor, while assuring the solution of the problems, said that Balochistan, especially Quetta city, is a bouquet of different nations.
All nations should remain Pakistanis through unity and brotherhood so that discrimination in the name of religion and nation ends.