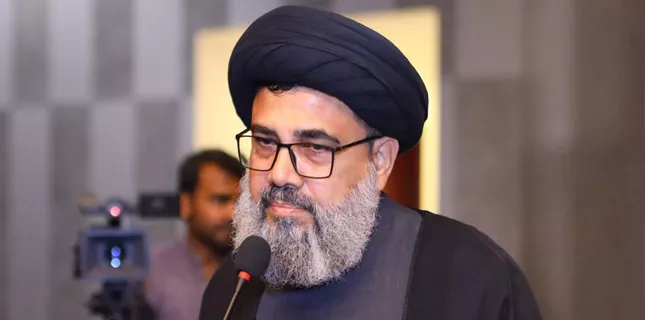 Shiite News: A gathering of organizational brothers was held at the Secretariat of Majlis Wahdat Muslimeen Lahore.
Organization brothers participated from different areas of the city. Allama Syed Ahmad Iqbal Rizvi Vice Chairman Majlis Wahdat Muslimeen Pakistan, Syed Asad Abbas Naqvi Central Secretary Political Science Majlis Wahdat Muslimeen Pakistan and former Special Assistant to Chief Minister Punjab, Shehryar Central Secretary Communications, Maulana Raja Mustafa Baradar Syed Hasan Raza Kazmi Provincial General Secretary Majlis Wahdat Muslimeen Pakistan Punjab province participated.
Naqi Mahdi District Organizer Majlis Wahdat Muslimeen District Lahore, Sajjad Hussain Naqvi, Asadullah Balti, Najam Khan Mirza, Aftab Hashmi, Babar Shah, Kazim Jafri, Kazim Naqvi, Faizan Ali and tens of people also participated.
Allama Syed Ahmad Iqbal Rizvi addressed this meeting and gave a comprehensive and reasoned discussion on the subject of purely organizational, political and organizational worker's responsibilities in the era of the occultation of Imam Zaman Farja Al-Sharif.
Which was greatly appreciated by the brothers. Allama Ahmad Iqbal Rizvi said that Majlis Wahdat Muslimeen will participate fully in the general elections, instructions issued to the candidates in this regard.