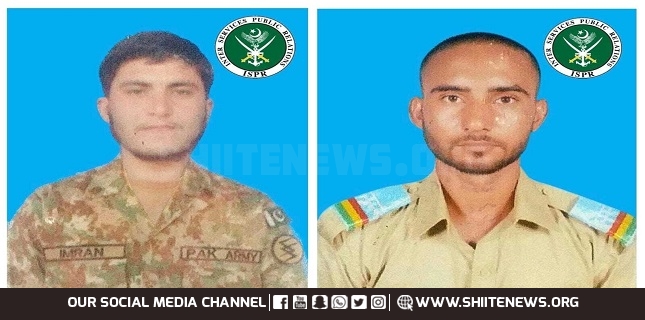 The funeral prayers of two brave Pakistani soldiers, Sepoy Afzal Khan and Sepoy Imran Ullah, were offered at Badar Gah in Mardan and Sarai Sar in Bajaur, respectively on Tuesday.
The soldiers had embraced martyrdom while valiantly fighting against terrorists in Spinwam, North Waziristan district, on Sunday, according to a statement by military's media wing, the Inter-Services Public Relations (ISPR).
The ISPR further stated that the soldiers were killed during an exchange of fire between terrorists and army troops. The two martyrs were among those who had been deployed to ensure peace and stability in the volatile region of North Waziristan.
At least two terrorists were killed while two others were apprehended by army troops during the operation. Weapons and ammunition were also recovered from the terrorists.
The military's media wing said that the militants had remained actively involved in terrorist activities against security forces and the killing of innocent citizens. A sanitisation operation was carried out to eliminate any remaining terrorists found in the area.
The funeral prayers were attended by senior serving and retired officers, soldiers, relatives, and a large number of people today. The mourners expressed their heartfelt condolences to the families of the martyred soldiers and prayed for their eternal peace.
Both Sepoy Afzal Khan and Sepoy Imran Ullah were laid to rest with full military honours, as per the military tradition. The military's top brass paid homage to the brave soldiers and reiterated their commitment to safeguarding the country against all internal and external threats.
The armed forces of Pakistan remain committed to protecting the motherland against all hostile efforts to undermine the hard-earned peace. The sacrifices made by brave soldiers like Sepoy Afzal Khan and Sepoy Imran Ullah serve as a testament to their unwavering dedication to the cause of defending the country's sovereignty and territorial integrity.
The nation salutes the bravery and sacrifices of our armed forces and remains indebted to them for their unwavering commitment to the country's defence. The entire country stands with the families of the martyrs during these difficult times and pledges to honour their sacrifices for generations to come.