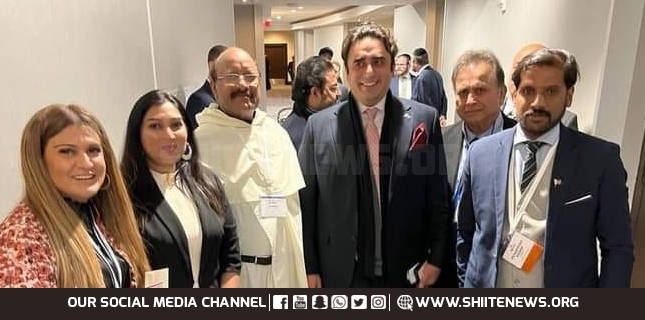 Shiite News: Foreign Minister Bilawal Zardari has met a delegation of pro-Israeli Pakistanis in New York during his recent US official visit.
A delegation consisting of Pakistani men and women journalists and leaders of different religions, headed by the agent of Zionist state, a so called female journalist of Pakistani origin Aneela Ali, has also met Foreign Minister Bilawal Zardari.
It should be noted that this is the same Aneela Ali who has visited Israel with a delegation of Pakistani journalists and religious figures last year as well.
She is engaged in creating the groundwork for the recognition of Israel in Pakistan on the American initiative.
Aneela has met various political, religious and journalistic personalities in different cities of Pakistan in the last few months and has persuaded them to support Israel, all these steps are being carried out as a result of government patronage and support.
It should be remembered that the PML-N and the People's Party have always adopted a soft attitude towards Israel, while America wants Pakistan to recognize Israel. He also talked about the rights of the Palestinian people there.
Due to being in power, Maulana Fazlur Rehman, Zardari, Shahbaz and Maryam Nawaz, Tehreek Labaik and all their party members will not say anything now because their greed for power was not to solve the problems of the people but to recognize America under the guise of recognizing Israel. It was the acquisition of wealth.