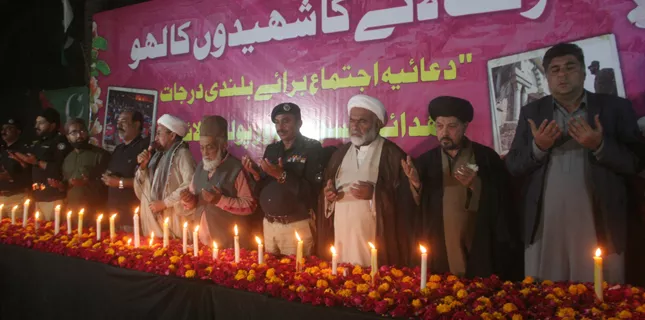 Shiite News: Majlis Wahdat Muslimeen Pakistan Karachi Division organized a prayer ceremony for the officers who were martyred as a result of the suicide attack in Peshawar Police Lines.
Allama Baqir Abbas Zaidi, president of MWM Sindh, Pakistan Peoples Party leader Najmi Alam, Firdous Shamim Naqvi of Tehreek-e-Insaf, Bilal Ghaffar, Vice President of Jafaria Alliance Pakistan Allama Baqir Hussain Zaidi, Shabbar Raza were present at the event held at Karachi Exhibition Chowrangi.
Ahl-e-Sunnah scholar Shah Ferozeuddin Rahmani, Allama Mukhtar Imami, Allama Sadiq Jafri, Allama Mubasher Hasan, SHO Soldier Bazar Waqar Azim, SDPO Jamshed Division Tasdeeq Waris Sheikh, SHO Jamshed Naveed Soomro and others participated.
Candles were also lit in memory of the martyrs in the ceremony and the state institutions were demanded to take full action against the terrorists.
Addressing on this occasion, the leaders of political and religious parties said that on the one hand, Pakistan is suffering from an economic crisis, on the other hand, the resumption of terrorism has made the people more worried.
He said that despite the sacrifice of eighty thousand innocent Pakistanis, our state is reluctant to carry out a full operation against these terrorists, the pure blood of the martyred worshipers is on the neck of the state.
The government and state institutions seem to be failing in dealing with terrorism, the public's question is to Army Chief Asim Munir that the face of terrorists and their facilitators has come to light, when did they start the nationwide operation against these terrorists ?
The leaders further said that banned parties are engaged in massacre of worshipers under the umbrella of federal and provincial governments, those who killed innocent worshipers in Peshawar are the followers of Yazid, Takfiri in Pakistan has no relation with Islam.
Owing to not setting up a systematic strategy against Takfiri thinking, terrorists are continuously targeting innocent citizens.
All these actions are a conspiracy to defame Pakistan. The outlawed Takfiri seems to have failed to take any concrete and effective action against the soldiers and armies.
In the end, the leaders offered their condolences to the families of those who were martyred in the tragedy, prayed for the injured, and appealed to the public to pray for the speedy recovery of the injured.