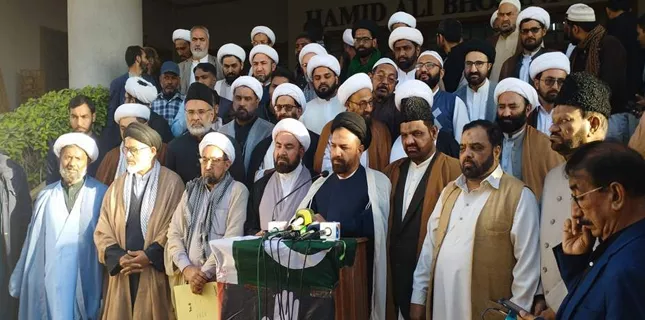 Shiite News: President of Shia Ulema Council Pakistan Sindh Allama Syed Asad Iqbal Zaidi has said that we strongly oppose the controversial Criminal Law Amendment Bill and completely reject this amendment bill.
Addressing a press conference in Karachi regarding the current situation in the country and the controversial Criminal Law (Amendment) Act 2021, he said that at the time of approval of the bill, there were only 20 to 25 members in the 342-member assembly.
It is reflected that neither the quorum of the National Assembly was complete nor the majority of the assembly was present, rather the House was devoid of the majority of government and opposition members and the Speaker himself was not even present. It can be considered as a based initiative.
He said that we want to attract the members of the upper house and senate to reject this controversial amendment bill.
He also appealed to the President of Pakistan, Dr. Arif Alvi, to save the country from suffering any further crisis by not signing this controversial amendment bill, as it is unfair to enact such legislation without listening to the affected party.
We are not convinced of insulting anyone's sanctity, but this law will be equivalent to giving weapons in the hands of extremist elements.
Hasnain Mehdi, Allama Razi Haider Zaidi, Allama Kamran Abidi, Allama Abid Irfani, Allama Karam Ali Haidari, Allama Ali Raza, President of MWM Karachi Allama Sadiq Jafri and other scholars were also present in the press conference.