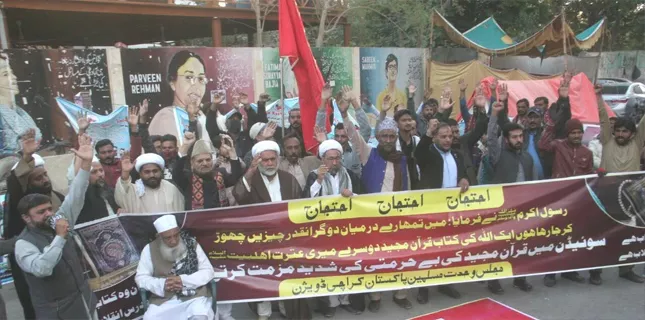 Shiite News: Majlis Wahdat ul Muslimeen (MWM) staged a protest demonstration against desecration of Holy Quran in Sweden outside Karachi Press Club.
Protertors strongly condemn the desecration of the Holy Quran. They said that hurting the sentiments of the Muslim world is a very criminal act, which cannot be allowed under the guise of freedom of expression.
Addressing the protest held outside Karachi Press Club Vice President of MWM Sindh Province Allama Mukhtar Ahmad Imami, President of Karachi Division Allama Sadiq Jafri, Allama Mubasher Hassan, Allama Hayat Abbas Najafi, Allama Malik Ghulam Abbas, well-known Deoband.
Religious scholar Intizarul Haq Thanvi, Chairman Muttahida Ulama Muhazm Maulana Muhammad Amin Ansari, Leader of Jamiat Ulema Pakistan Mufti Mahmood Dawood, Leader of Pakistan Tehreek-e-Insaf Asrar Abbasi, General Secretary Palestine Foundation Pakistan Dr. Sabir Abu Maryam addressed.
Speakers said that no religion ever allows insulting the sanctities of other religions, which offends one's religious sentiments and hurts one's heart, but it has to be said with deep sadness that this criminal act has been repeated one after another in the western society.
But the double standard of the organizations that give the Nobel Prize in the name of human rights.
The relevant governments also do not punish the people involved in this criminal act, owing to which the holy places of Muslims are being destroyed in Western countries day by day.
Incidents of desecration are becoming common. Protesters also burned the flags of Sweden and the United States and chanted slogans of "Dead to America and Sweden".