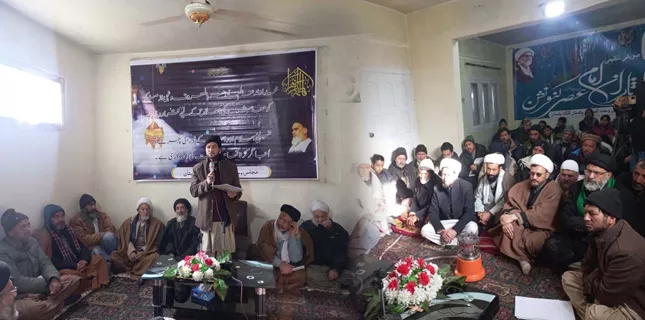 Shiite News: Majlis Wahdat Muslimin Gilgit-Baltistan organized an "Ulema o Mashaikh" conference, held in Provincial Secretariat Skardu.
A large number of scholars from across Baltistan participated in the conference. The conference observed the birth anniversary of Khatoon Jannat Hazrat Fatima al-Zahra S.A, and the great leader Imam Khomeini, and the religious services of martyr Agha Ziauddin Rizvi were appreciated.
The conference was addressed by Hujjat-ul-Islam Syed Mustafa Shah Al Musawi, Allama Sheikh Sajjad Hussain Mufti and Provincial President of MWM Agha Syed Ali Rizvi.
These scholars said in their address that the purpose of this great conference is for scholars to sit together and discuss various issues.
In view of the need for training in the society, the conference emphasized on conducting training programs at the level of all localities.
On this occasion, all the scholars unanimously passed a resolution. The resolution said that we reject the Criminal Amendment Bill 2021 passed by the National Assembly and demand the state officials not to allow any such bill to become part of the law.
The resolution said that the determination of the constitutional status of Gilgit-Baltistan is extremely important in the context of the patriotism of the local people and the specific situation of the region.
There is no land of Khalsa government in Gilgit-Baltistan. Every inch of land here is owned by the people. Therefore, the lands should be distributed among the local people.
The only subsidy available to the people of Gilgit-Baltistan, is the wheat subsidy, which repeated reductions, cuts in the annual development budget and withholding of PSDP project funds are a complete abuse of the people of the region.
We appreciate every positive step taken for the promotion of tourism, but promotion of illegal and immoral programs in the name of promotion of tourism will never be allowed.
The provincial government should implement the promises made with Anjuman Tajran on Land Reforms Act and Finance Bill as soon as possible.