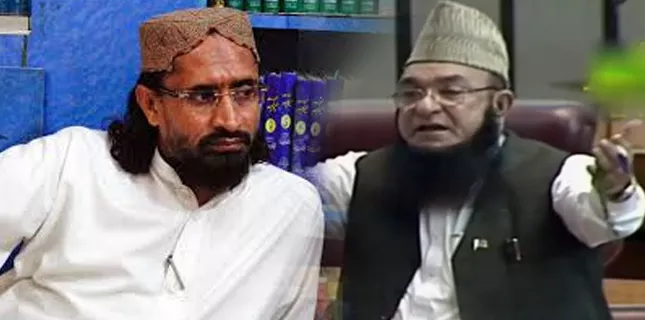 Shiite News: The truth has been revealed who made Abdul Akbar Chatrali a mouthpiece of controversy? Aurangzeb Farooqi, the enemy of Ahl al-Bayt, the leader of the outlawed Sipah Sahaba / Lashkar Jhangvi and the murderer of hundreds of innocent Shia Sunni Muslims, has himself confessed that the Criminal Amendment Act 2021 approved by the National Assembly was made by the outlawed Sipah Sahaba.
Accursed Aurangzeb Farooqi, the leader of Sipah Sahaba Lashkar Jhangvi, has accepted the Criminal Amendment Act 2021, which was rejected at the national level by Shia Haider Karrar (a.s.), has been now given by banned outfit Sipah-e-Sahaba to a National Assembly member Maulana Abdul Akbar Chitrali.
Aurangzeb Farooqui said that God should reward those who made this bill and presented it in the assembly and got it approved. It should be noted that Millat Jafaria has been saying since the first day that this bill is a copy of the Sharia Bill and the "Bunyad-e-Islam Bill" presented in the National Assembly and the Punjab Assembly by the banned Sipah Sahaba in the past.
It is sad how our number one, sensitive organizations which has access to news and video from the bedrooms of opposition politicians and journalists could be ignorant of the preparation and approval of such a big riot bill???
It is a very suspicious matter that maybe it is the case that this bill has been prepared by the banned Sipah Sahabah on behalf of the authorities and submitted to the National Assembly by Jamaat-e-Islami.
It should be noted that the nation of Jafaria will not allow this anti-national and anti-Ahl al-Bayt and sedition-promoting bill to be passed by the Senate under any circumstances and if this bill is approved and implemented as a law under any conspiracy then people will have to set fire to their own holy books (Bukhari, Muslim, Dawud, Majah) with their own hands because these historical facts which this bill is being passed to hide are proved by the books.