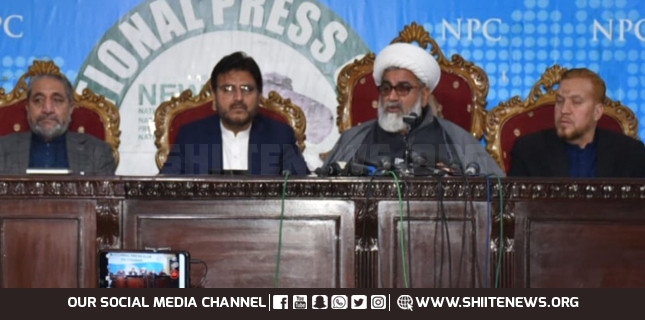 Shiite News: Chairman Majlis Wahdat Muslimeen (MWM) Pakistan Allama Raja Nasir Abbas Jafari, along with the leaders of MWM Gilgit-Baltistan, while speaking in an important press conference regarding the current political situation of the Punjab government, said that we have reservations about the style of government of Chaudhry Parvez Elahi.
Parvaiz Elahi is doing all these things in a weak position. If he becomes powerful, then what will happen? We can go to Imran Khan and resign, but we will not tolerate anyone's pressure, and we will not be pressured by anyone.
He said that the biggest demand of the people of Baltistan is to be represented first and then they will pay the taxes, cuts in the funds of GB by the federal government, reducing the supply of wheat and subsidies, Grabbing the lands of the people in the name of Khalsa government is a very sad and unfair act.
We condemn the forcible seizure of public lands by the Federal Government, withholding funds of twenty billion and inciting the people for violent protest that could be dangerous.
He said that for the last six days, people are continuing the protest sit-in in negative temperatures. The people have been shouting for seven decades that made their area a constitutional part of Pakistan.
We support the sit-in for people's rights. Special instructions have been given to the members to solve these problems.
We stand with the people, we are looking at the affairs and conditions of Gilgit-Baltistan and will take a decision soon.
He said that we have won the elections in Kurram Agency, till date the provincial government has not released the funds to the chairman of Kurram Agency.
It is not acceptable to stop the development of the people of Kurram. We hope that they will take practical steps soon to rectify our issues.