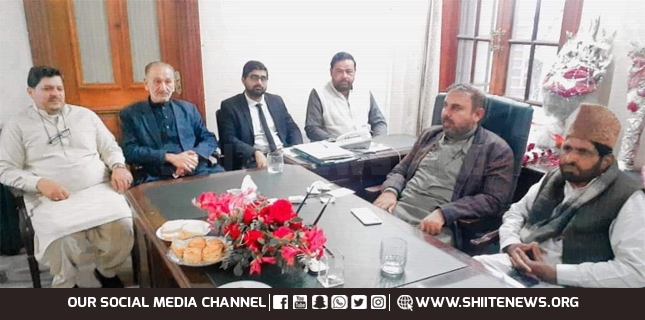 Shiite News: The delegation of Majlis Wahdat Muslim Pakistan and Shia Board Imamia Colony met with Syed Asad Abbas Naqvi Advisor to Chief Minister Punjab.
Religious Scholar Allama Syed Waqarul Hasnain Naqvi, Syed Hasan Raza Kazmi Secretary Political MWM Punjab, Syed Irfan Naqvi District President of Majlis Wahdat Muslim District Sheikhupura, Syed Muhammad Ali Shirazi, President Shia Board, Syed Jabbar Ali Naqvi Secretary Shia Board, Chairman Anwar Haq Haider, Syed Mukhtar Shamsi Vice President Shia Board besides them people from different walks of life were included in the delegation.
The personalities congratulated Syed Asd Abbas Naqvi on becoming the advisor to the Chief Minister of Punjab and expressed good wishes for him.
Syed Asad Abbas Naqvi Advisor to Chief Minister Punjab thanked the delegation and said that all this is the result of the love and prayers of my friends so that we can serve the nation more.
I have learned this spirit of service from our seniors, that wherever a person is in the world, he should serve others more than himself.
May Allah give us the ability to serve the nation while always following the religion.
The meeting took place in the office of the Assistant Chief Minister of Punjab in the Secretariat of the Government of Punjab in Lahore and continued for one and a half hours.