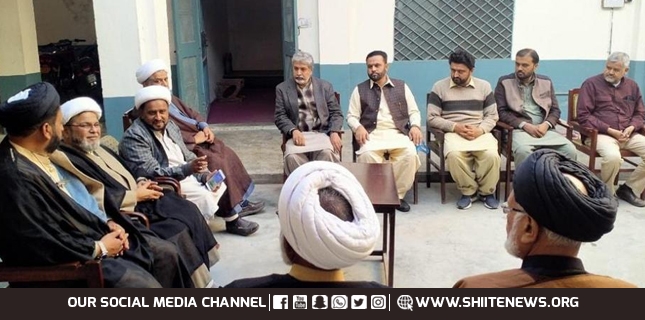 Shiite News: Central Secretary General of Shia Ulema Council of Pakistan, Allama Dr. Shabbir Hasan Maisami, during his ongoing visit to Punjab, arrived at Jamiat al-Mujtaba, a well-known religious seminary in Gujarat, where he was welcomed by the principal of the madrassa and leader of Shia Ulema Council of Pakistan, Allama Asghar Yazdani. Allama Ishtiaq Hussain Kazmi, Head of Shia Ulema Council North Punjab Coordination Committee, Syed Altaf Hussain Kazmi, Central Deputy Secretary Information of Shia Ulema Council and other teachers of Madrasah.
On this occasion, a briefing was given to Imam Jumma Baqiyullah Defense Karachi,Allama Dr. ShabbirHasanMaisami about the madrassa and its various departments and various national and religious issues were discussed during the meeting.
Central Information Secretary Zahid Ali Akhunzada, Maulana Fayaz Hussain Muthari and other organizational and social personalities were also present along with Allama Dr. ShabbirHasan during the visit to Jamia Al-Mujtaba Gujarat.