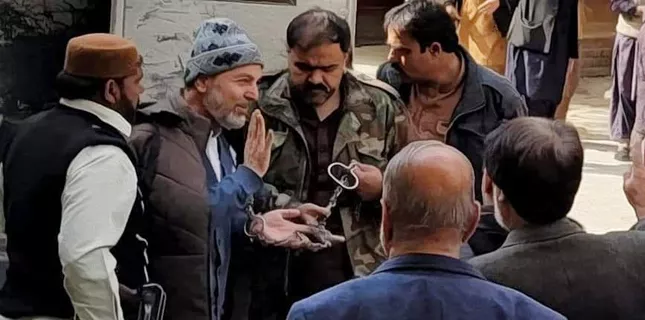 Shiite News-: The famous Shia cleric Allama Ali Hasnain Wijdani was arrested by the Counter Terrorism Department (CTD) in Quetta and was handed over to the police on 10-day physical remand.
Senior cleric was presented in the District and Sessions Court in a humiliating manner with both hands handcuffed.
Allama Ali Hasnain Wijdani, who was arrested by the CTD yesterday in the presence of his family, was presented in District and Sessions Court Quetta today.
After the hearing, the Judge handed over him to the police on 10-day physical remand. The court did not even consider the sanctity of an obstinate cleric and handed him over to the police on remand like a habitual criminal.
It should be noted that the security agencies have arrested Allama Ali Hasnain at the behest of Takfiri terrorist elements during the martyrdom days of Hazrat Fatima Zahra (a.s.), calling the victimization of the Prophet's daughter (a.s.) and declaring her right to property a crime.
It should also be noted here that in Pakistan, like all over the world, there has been a significant increase in the holding of Ayyam-e-Fatimiyyah over the last few years, which the Takfiri and Nasbi forces and state institutions are constantly afraid of.