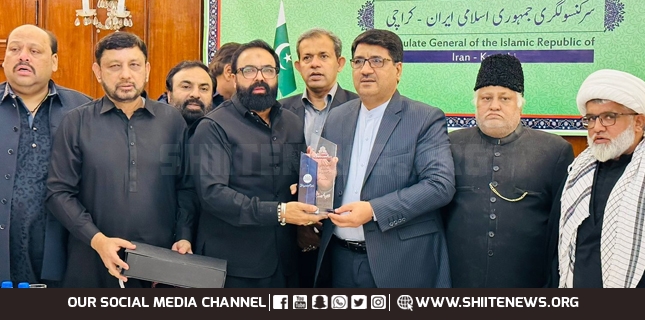 Shiite News: The delegation of Markazi Tanzeem Azadari (MTA) met with the Iranian Consul General Hassan Noorian at the Iranian Consulate.
At this occasion, delegations discussed domestic and international affairs and the promotion of mutual brotherhood between the two neighboring countries and the issues relating to pilgrims.
The Iranian Consul General briefed on consulate performance and expressed his good wishes while General Secretary Markazi Tanzeem Azadari, Abbas Haider Zaidi informed about the performance of his organization.
In the end, the Iranian Consul General presented a shield of honor to the President MTA, SM Naqi, and SM Naqi presented a gift of Nishan Hussainiat on behalf of his organization to the Consul General of Iran, Hasan Noorian.