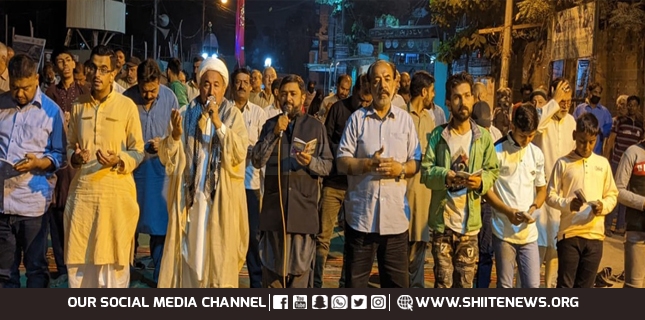 Shiite News: Dua Committee Provincial Secretariat Majlis Wahdat Muslimeen Pakistan Sindh organized a weekly gathering for prayer and expressing solidarity with missing persons families on Shah-e-Khorasan Road.
Majlis Wahdat Muslimeen Karachi Division President Maulana Sheikh Muhammad Sadiq Jafri recited the prayer while Brother Muhammad Ali Jalalvi presented the manqbat, the ceremony was attended by religious, social personalities, families of missing persons and elders in large numbers.
Speaking on this occasion, Allama Mubasher Hassan, Secretary of Politics MWM Karachi, said that the open threats of terrorist attacks on the part of the banned Tehreek-e-Taliban Pakistan is a question mark on the performance of the law enforcement agencies.
He said that the patriotic Shian-e-Haider-e-Karrar have always played a fundamental role in national security, however, it is sad to say that the children of the founder of Pakistan, Millat Jafaria, are being punished for their patriotism.
He said that on the one hand, the nation of Jafaria has been targeted by terrorism in the country, on the other hand, our innocent youth have been missing for years and their families are forced to live in anxiety. The families of the missing persons are spending every moment in pain and trouble.