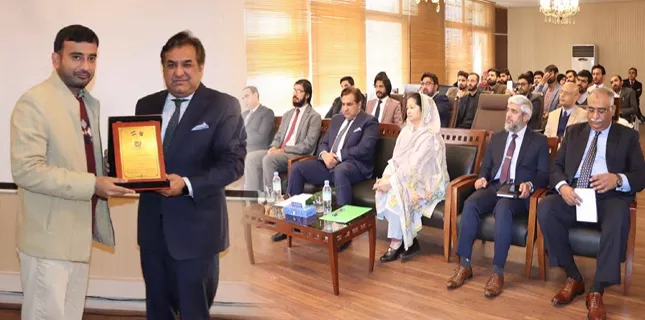 Shiite News: A ceremony was held at the Pakistani embassy in honor of Syed Shahzada Hasan Raza Naqvi, a Pakistani-origin PhD scholar of Tehran University.
In the ceremony, Syed Shahzada Hassan Raza Naqvi was congratulated for the recent academic award (ideal student of the year 2021-2022) received by the Ministry of Education of Iran.
In the ceremony, the Pakistani Ambassador also gave an educational award to a Pakistani student and the Educational Counselor Madam Ambreen Gul Shahid also gave an honorary certificate.
On this occasion, Rahim Hayat Qureshi the Pakistani ambassador in Iran said that it is a source of joy for the whole of Pakistan that Hasan Raza Naqvi has made Pakistan proud in the field of education. Our country desperately needs such hard work, so our youth must advance in the field of knowledge and research.
Referring to the current situation in Iran, the Pakistani ambassador said that Pakistani students should focus on their studies and no one should interfere in Iran's internal affairs.
The recipient of the award, PhD scholar Syed Hasan Raza Naqvi, in his speech, thanked the Pakistani ambassador and other diplomatic officials in Iran for the award and honor.
Syed Hasan Raza Naqvi, who belongs to Mandi Bahauddin, Punjab province, Pakistan, is currently a PhD student in Public Administration at the most prestigious university in Iran, the University of Tehran, and his specialization is Comparative Development Management.
Currently, he is engaged in writing his PhD theses, the topic of which is Designing an inclusive regional development system, case study: Border Provinces of Pakistan and Iran.
Hasan Raza Naqvi was awarded this title (ideal student of the year 2021-2022) after his academic performance, research work, publications and research projects.
It should be remembered that among the international students who receive this research scholar award at the national level, in Iran they are also declared as an honorary member of the National Intellectual Council.