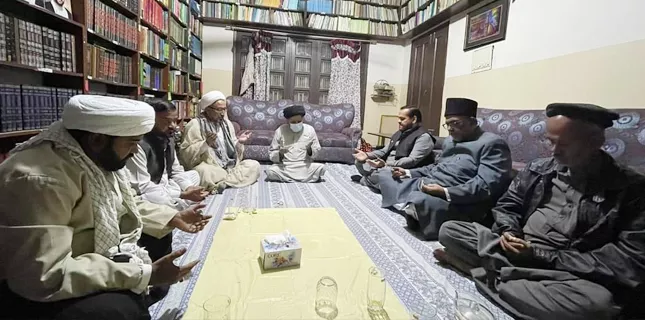 Shiite News: Newly elected office bearers of Majlis Wahdat Muslimeen Pakistan Karachi Division under the leadership of Divisional President and Imam e Juma Jama Masjid Haideri Orangi Town Allama Mohammad Sadiq Jafri met the central cabinet of Jafriya Alliance Pakistan at the residence of Alliance President Allama Syed Razi Jafar Naqvi.
MWM Karachi Division Leader Maulana Malik Ghulam Abbas, Political Secretary Allama Mubasher Hasan, Mir Taqi Ali Zafar, Sabahat Asghar Zaidi, Member Political Council Farhat Abbas, Jafaria Alliance Vice President Allama Baqer Hussain Zaidi and General Secretary Syed Shabar Raza were also present on this occasion.
In the meeting, it was fully agreed to work together for protection, mourning and national interests through the unity of the joint arrangements.