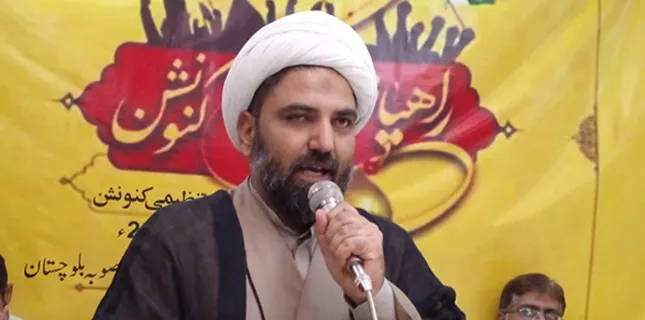 Shiite News: Imamia Students Organization (p-[p) Pakistan Larkana Division's 33rd Annual "Tameer-e-Watan Convention" was held at Hussaini Masjid and Imam Bargah in Shikarpur.
Addressing "Shab-e-Shohada" of "Tameer-e-Watan Convention", the central secretary of Majlis Wahdat Muslimeen Pakistan, Allama Maqsood Ali Domki, said that after the Torah, God has promised the world government of the righteous in the Psalms (Zabur), and the dark night of oppression and tyranny will end soon.
He said that the Islamic Revolution, being a message of light and guidance, has shaken the system of disbelief and arrogance.
The devils of the world are conspiring against the Islamic revolution. Using Hijab issue, a campaign has been started against the Islamic revolution and Islamic teachings, which has the support of the great Satan and the world's demons.
The Islamic Revolution appeared to be successful in this examination as well. He said that ISO is a party of righteous and responsible youths who are the defenders of the ideology of Wilayat e Faqih and the thoughts of Quaid Shaheed.
Imamia students have rendered valuable services in the construction and development of the dear motherland Pakistan.