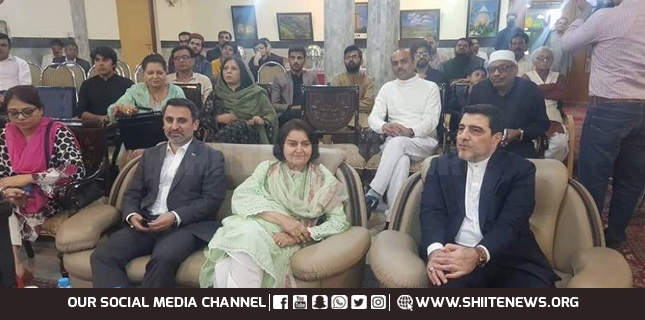 Shiite News: "Iqbal Conference" organized in Khana Farhang Islamic Republic of Iran Lahore on the occasion of Iqbal Day.
DG Khana Farhang Iran Lahore Jaffar Ronas, Consul General of Iran Lahore Muhammad Raza Nazeri, Hakeem-ul-Umat's daughter-in-law Justice (retd) Nasira Javed Iqbal, Iqbaliyat expert Dr. Waheed-ul-Zaman Tariq, former Pro Vice-Chancellor of Punjab University Dr. Salim Mazhar, Principal Oriental College Dr. Moin Nizami, Dr. Fatima Fayyaz, Yawar Bukhari, Dr. Nighat Ejaz and Dr. Nausheen Khalid especially participated.
DG Khana Farhang and Cultural Attaché Consulate General Islamic Republic of Iran Lahore Jafar Ronas while addressing the conference said that as an Iranian we are proud to say that Allama Iqbal immortalized the Persian language.
He said that Allama Iqbal not only reformed the Muslims in his time with his thought and prudence but also took steps to raise awareness in the coming generations through his books and poetry.
Consul General of Iran Lahore Raza Nazrei said that Allama Iqbal is known as an important pillar regarding the stability of the intellectual system and culture of Iran and Pakistan.
Addressing the conference, the speakers said that we are grateful to Allama Iqbal, who restored the identity of Millat-e-Islamia and gave the message of awareness of "Khudi" to Muslims.
The teachers of Persian language and literature, throwing light on Iqbal's philosophy, said that the source and outlet of Allama Iqbal's thought is the Quran and the life of Hazrat Muhammad (peace be upon him) and only by following his thoughts and ideas can the world of Islam be freed from the difficulties faced. Professor Dr. Shoaib Ahmed's book "Qos-e-Qaza" was also launched in the conference.