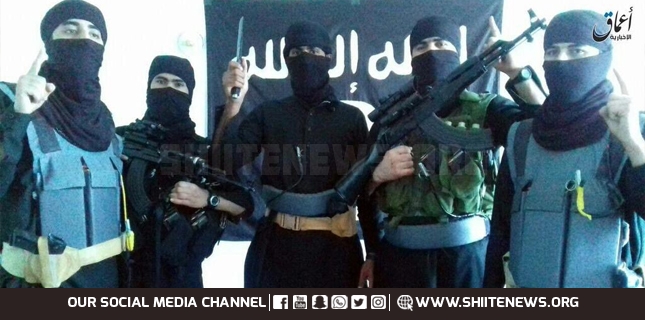 Shiite News: The global terrorist organization Daesh initially started its atrocities in Iraq and Syria, but after the defeat by the resistance forces, this organization, in accordance with the intentions of its masters and creators, came to Afghanistan.
The activities of Daesh on Afghan soil had started during the presence of the United States, but since the Islamic Emirate came to power, the influence and activity of this terrorist organization increased there.
Daesh's Afghanistan branch was named Daesh Khorasan, whose goals were to destabilize Afghanistan, including Pakistan, Iran, and then China.
The terrorists of the Islamic State first started their activities on Afghan soil and killed innocent civilians, especially the Hazara Shia community, and brutally martyred hundreds of civilians.
At the same time, after the defeat of the banned TTP and other terrorist groups in Pakistan, the involvement of Daesh in several sabotage incidents was revealed, some arrests were also made in this regard, and Daesh was also considered a serious threat to Pakistan.
The tribal areas of Khyber Pakhtunkhwa and Balochistan along the Afghan border were considered easy havens for Daesh to establish its camps in Pakistan.
Daesh formally accepted the responsibility of being involved in some incidents of terrorism in Pakistan. Sources have said that due to the continuous presence and operations of the security forces in the tribal areas of Khyber Pakhtunkhwa, this terrorist organization could not get a full opportunity to flourish there, however, during some time in some areas of Balochistan, Daesh Khorasan managed to organize itself.
A journalist from Balochistan said that Daesh operatives tried to establish their sanctuaries in Mastung, Kabu, Spalanji Harnai and other areas of the province, but the security forces killed several important commanders of Daesh through operations in these areas.
And the terrorists were detained and some were killed. During the operations of the forces, nine wanted suspects of Daesh Khorasan were confirmed dead and seven commanders were arrested, their identities were not disclosed.
According to the journalist, the Pakistani security forces have practically prevented the Daesh Khorasan branch from moving its operational wing from Afghanistan to Baluchistan province.
He said that those arrested revealed that ISIS was trying to move to Balochistan and establish a camps due to the changing situation in Nangarhar, Kunar, Paktika and some other restive areas of Afghanistan.
Sources have said that as a result of recent operations, the organizational structure of Daesh Khorasan in this region has also been revealed.
According to Syed Asad Raza, a counter-terrorism official, Daesh Khorasan has been trying to establish a foothold in Pakistan for a long time, with local facilitators, including the Tehreek-e-Taliban Pakistan (TTP) and Lashkar-e-Jhangvi (LEJ), among others.
Members of banned militant groups have been killed in past operations in the country. Daesh has been trying to fuel terrorism in Pakistan and the main objective of this group is to create an atmosphere of instability through communal riots.
According to Syed Asad Raza, recent counter-terrorism efforts have thwarted several plans to attack Shia pilgrims returning from pilgrimages from Iran via Quetta, Taftan, every possible attempt by Daesh to establish a foothold in Balochistan's tribal belt is under progress.