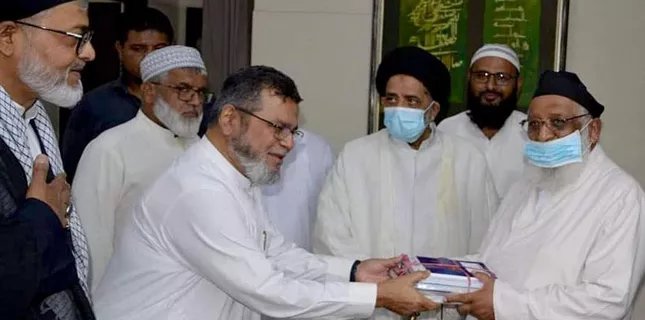 Shiite News: A meeting was held with scholars on the occasion of the arrival of Allama Hafiz Syed Riaz Hussain Najafi, head of Wifaq ul Maddaris Shia Pakistan, at Zahra Academy Karachi.
Allama Hafiz Riaz Naqvi gave a short lecture on the Qur'an in which he emphasized on working on the Holy Qur'an and guided the work.
While talking, he mentioned various senior scholars and stressed on the importance and usefulness of madrasas and to continue this process, at the same time he appreciated the efforts of Allama Syed Sajid Ali Naqvi and Zahra Academy.
In the meeting, the Central General Secretary of Shia Ulema Council (SUC) of Pakistan Dr. Allama Shabbir Hasan Maisami, Head of Jafaria Alliance Allama Syed Razi Jafar Naqvi, Allama Fayyaz Naqvi, Allama Mirza Ali Nagri, Allama Zakir Mudabari, Allama Abid Irfani, Allama Razi Haider Zaidi, Allama Fayyaz Mutahari, Maulana Azhar Zaidi, Maulana Rahimi, Maulana Maqbool, Maulana Manwar, Maulana Sajjad Qaimi, Maulana Mehdi Raza Imani, Maulana Muhammad Hussain Hussaini, Maulana Safir Naqvi, Akhtar Zaidi, Maulana Imdad Ali Ghalu and other scholars were also present.
Later, Allama Shabbir Hasan Maisami thanked Allama Hafiz Syed Riaz Hussain Najafi for visiting Zahra Academy and talked about the efforts made in recent days to solve the problems of pilgrims and other national issues.
In the end, Fatiha was recited for Maulana Karam Ali Haidari's late father and mother in law of Mirza Ali Nagri, and prayers were offered for the development of the nation and institution. In the end, lunch was given by Zahra Academy in honor of scholars.