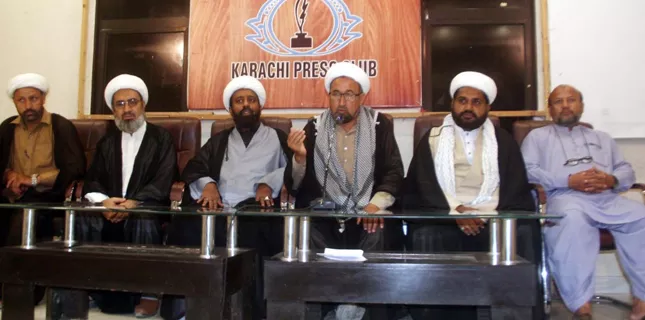 Shiite News: President of Majlis Wahdat Muslimeen Pakistan Karachi Division Sheikh Maulana Sadiq Jafari while addressing a conference at Karachi Press Club said that the successive visits of Pakistani delegations to Israel and not taking action against the people involved in these delegations indicates the secret links of government with Israel.
The lack of any kind of government denial of the news related to the meeting of Prime Minister Shehbaz Sharif with the Mossad leaders in Qatar reveals the government's bad intentions.
Maulana Hayat Abbas Najafi accompanied by Maulana Muhammad Abbas Muthari, Maulana Bashir Ansari, Maulana Malik Abbas, Mir Taqi Zafar and others.
The leaders said that the visit of Naseem Ashraf, an important post of Pakistan Cricket Board and journalists from famous TV channels to Israel is part of a conspiracy to damage the integrity of Pakistan and against the ideological stability of Pakistan.
The MWM leaders demanded that the government take strict action against all citizens who have visited the occupying Zionist state of Israel in the past and present and met with the murderous president and officials of the Palestinian people.
He said that the continuous visit of Pakistani journalists to Israel is tantamount to insulting the struggle and thoughts of Quaid-e-Azam Muhammad Ali Jinnah.
The founder of Pakistan, Quaid-e-Azam, had declared Israel as a usurper and illegitimate state by giving a blunt stand, but no government or individual can change the fundamental principles of Quaid-e-Azam.
He said that an organization of the United Arab Emirates is actively involved in making Pakistani journalists visit Israel continuously and the rulers of Pakistan are silent spectators or it should be said that the government and state institutions are also involved in this crime.
The leaders have appealed to the scholars to reveal the faces of the traitors who went to Israel in the Friday prayer sermons.
Remember that Israel is an illegitimate state built by usurping the blood of millions of Palestinian Muslims.
It will not be recognized in any case. The problem of Palestine is not of the Arabs, but the problem of Islam and the Muslim Ummah.
Even if all the Arab states kneel before Israel, then Pakistan and Muslims around the world will never recognize Israel.
Israel is an evil and its only solution is resistance, due to the visionary leadership of Supreme Leader Sayyid Ali Khamenei, the Mujahideen and efforts of Martyr Qassem Soleimani, today the Palestinian Mujahideen have become very powerful and now answer to the Israelis inside Israel.