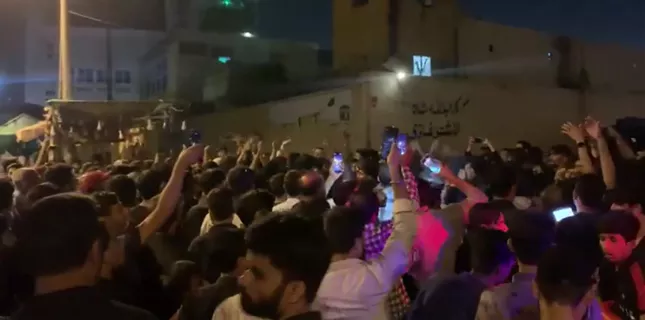 Shiite News: Mourners gathered at the holy mausoleum of Hazrat Abdullah Shah Ghazi (AS), son of Imam Hassan Mujtaba (AS), who was buried for centuries at Clifton Beach in Karachi.
On the occasion of the Martyrdom day of Hazrat Imam Hassan A.S, mourners gather to condole the Hazrat Abdullah Shah Ghazi A.S, black sheep in the state institutions charged them indiscriminately with sticks and arrested dozens of innocent mourners.
All these arrested pilgrims have been transferred to different police stations, according to the sources, all the arrested mourners have been kept in Clifton, Boat Basin, Chakiwara Police Station of Karachi.
While around 30 of these mourners have been named and hundreds of unknown ones, booked under anti-terrorism provisions, the state institutions have shown their malice and hatred towards the remembrance of Rasool Allah SAW.
According to the sources, the miscreants who started the matter are those who tried to stop Noha Khawani on Sunday and hurt the religious sentiments.
When hundreds of mourners from across the city gathered at Mazar Mubarak to mourn, the administration's role was hypocritical, instead of controlling the miscreants and handling the matter, the mourners were lathi-charged.
The shrines of Saints of Allah, Sufis, Prophets are not owned by any particular religion, these doors have always been open for every religion and creed for centuries.
Sindh Government's Auqaf Department and a group of some evil elements of a particular religion are bent on making this center of knowledge, wisdom and spirituality a base for extremism.
If Urs, celebrations and concerts can be held at the shrines, mourning can also be done. Sindh government and institutions should play their role in maintaining the atmosphere of Shia-Sunni unity instead of being used by a few sectarian extremist elements.
It is strongly demanded that everyone at the shrine be allowed to perform rituals according to their religious freedom and that all arrested worshipers be released immediately.