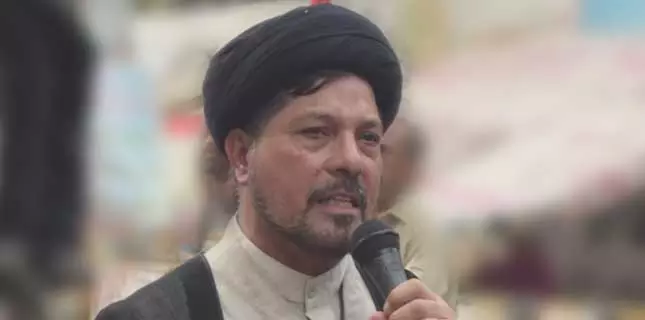 Shiite News: The Provincial President of Majlis Wahdat Muslimeen Sindh Allama Syed Baqir Abbas Zaidi, has urged the Sindh government to take strict action against the culprits involved in torturing mourners at Abdullah Shah Ghazi.
The men and women belonging to Millat e Jaffaria were gathered at the shrine of Imamzada Hazrat Abdullah Shah Ghazi in Shahr Qaid to pay their respects to grandson of the Hazrat Imam Hasan (peace be upon him) in the fourth generation when the incident occurred, strongly condemned this unconstitutional and inhumane brutal act.
He said that the sanctity of the Darbar has also been undermined by lathi charge and shelling inside the shrine, demanding strict legal action against the police officers and other elements who insulted the Darbar and exceeded their authority.
He said that the Shia people will not sit silently against such biased actions. Abdullah Shah Ghazi is a Wali Allah (Saint), people of all schools of thought express their devotion at his shrine in their own way.
Allama Baqir Zaidi said that Darbar is not the property of any individual or the banned party spreading sectarianism, but it is under the supervision of the Auqaf Department, which is a government institution, including Hazrat Bibi Pak Daman, Hazrat Bari Imam, Hazrat Lal Shahbaz Qalandar. Shiite nation will raise their voices countrywide against this brutal act of Sindh police.