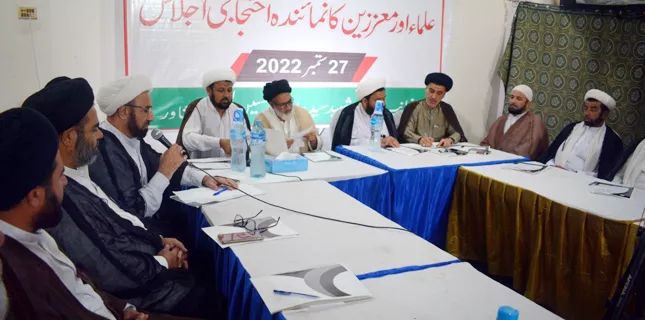 Shiite News: The representative gathering of Millat Jafaria Khyber Pakhtunkhwa (KP) has expressed deep anger and outrage over the insolence and takfir of Nikah Khawan (Marriage solemnizer) of Prophet Muhammad (peace be upon him) in the books of Islamic Studies (Islamiyat), and demanded the immediate arrest of perpetrators of this heinous.
In this regard, Allama Syed Jawad Hadi and others addressed the press conference after the meeting in Madrasah Shaheed Arif Al Hussaini, Shiite scholars from Abbottabad, Haripur, Mansehra, D.I Khan, Kohat, Hangu, Para Chinar, Orakzai, Nowshera Mardan and other districts participated.
The speakers said that they expressed their deep concern over the insolence in the honor of Hazrat Abu Talib (A.S.) and said that in Pakistan, insolence and ridicule in the honor of rites of Allah (Shaar Allah), including the Ahlebayt, Ummhatul momineen and the Sahaba (R.A) are becoming common.
It has become a practice to make fun of the holy rituals including prayer, fasting and Hajj Umrah through social media, which is backed by a regular lobby supported by arrogant powers, the main purpose of these insolences is to harm the sanctity of the Holy Prophets, especially "Khatam-ul-Nabien Rahmat-ul-alaameen" Hazrat Muhammad Mustafa.
Speakers said that Alhamdulillah all sections of Muslims are awake and zealous who have united and stood against these conspiracies.
We Muslims of all sects have stood together like a leaden wall against these conspiracies. Action should be taken under the law of blasphemy and controversial books should be seized immediately, otherwise there will be a call for protest across the country for which all the responsibility will fall on the government.
At this stage, we demand that Millat Jafaria should be represented in the committees of all the curricula so controversial issues should be avoided.