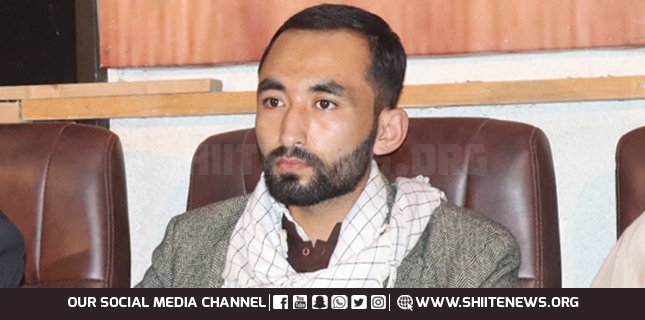 Shiite News: Central President of Imamia Students Organization (ISO) Pakistan Zahid Mehdi along with other leaders Ghazi Naqvi, Hasan Arif, Tanseer Mehdi and Fakhr Abbas said in a press conference at the head office in Lahore that the visit of the Pakistani delegation to Israel is highly condemnable.
The visit is a heinous conspiracy to undermine the ideological foundations of the country.
He said that the successive visits of Pakistani delegations to Israel indicate the incompetence of the government and the government's secret links with Israel.
He said that the delegation that visited the usurping Zionist state of Israel should be declared a traitor and punished severely, the land of Pakistan is the strong fortress of Islam, the daily meetings of the delegations are like sprinkling salt on the wounds of the people of Palestine.
Zahid Mehdi said that the Pakistan Army Chief and the Chief Justice of Pakistan are requested to take serious notice of the news of continuous visits from Pakistan to Israel and to ensure regular legislation to prevent such actions in the country.
He said that the zealous people of Pakistan are ready for any kind of sacrifice and will not back down from the Palestine policy made by the Quaid-i-Azam.
The central president said that under the auspices of ISO, rallies will be held in Karachi on Sunday and across the country on Friday under the Day of Rejection of Israel and the faces of the traitors to Israel will be exposed in front of the people in Friday prayers.
The central president of ISO Pakistan said that the Shiites around the world observed the International Day of Arbaeen on the 20th of Safar al-Muzaffar.
Three million pilgrims travel from Najaf to Karbala on foot. Those pilgrims who cannot travel to Iraq due to difficulties, they participate on foot in the main processions in their respective cities, for the past two years, millions of mourners of Imam Hussain (a.s.) have made this journey.
He said that the mourners gave a message of peace and harmony, but unfortunately, even walking was made a crime and cases were registered against dozens of mourners. He said that we question whether we are not free citizens of Pakistan, or walking is a crime.
Zahid Mehdi said that unfortunately, the worst flood happened in Pakistan last month, which caused massive destruction, more than 20 million Pakistanis were affected, for the recovery of which ISO's scouting department played an active role, alongwith Pakistan Army participated in relief operations in different areas, where it was impossible to reach.
He said that they have set up camps in Sindh, Balochistan and South Punjab and arranged safe shelter for thousands of families and also delivered ration to them.
He said that Imamia Scouts have always rendered selfless services in calamities and epidemics. As Muslims and patriotic Pakistanis, this is our first duty. And our efforts will continue until the recovery of the last person.