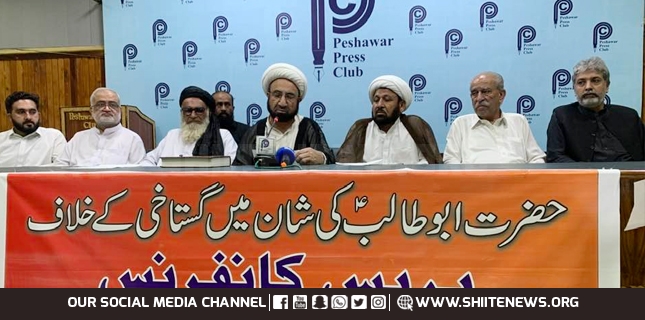 Shiite News: The sentiments of Muslims have been hurt by the insolence of Hazrat Abu Talib (A.S) in a book of KP Textbook Board of class IV of subject Islamiat.
Although many books have been written by Shiite and Sunni scholars on the faith of Hazrat Abu Talib (AS).
These views were expressed by Shia and Ahlesunat Scholars in Peshawar Press Club while addressing a press conference against the worst insult to the honor of Hazrat Abu Talib (A.S), the protector of Islam.
The speakers made it clear that scholars and intellectuals of all schools of thought of Pakistan will unite to defeat these nefarious conspiracies and will not avoid any sacrifice for the sake of the Prophet's family.
The speakers made it clear that all the published books should be seized immediately and the people responsible for this serious crime should be identified and the strictest action should be taken against them.
Otherwise, a protest movement will be launched and the entire responsibility of which will fall on the government of Khyber Pakhtunkhwa.
This press conference was organized by Maddrassa Shaheed Syed Arif Hussaini Peshawar, Majlis Wahdat Muslimeen Pakistan, Shia Ulema Council Pakistan, Imamia Jirga, Imamia Council, Imamia Students Organization Pakistan, Imamia Organization.