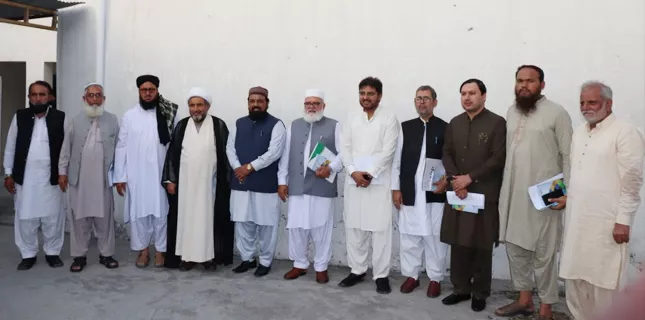 Shiite News: An important consultative meeting of Milli Yakjehti Council (MYC) was held at Jamia Naeemia, Islamabad, which was chaired by Liaquat Baloch. The central general secretary of Majlis Wahdat Muslimeen Syed Nasir Abbas Shirazi, Mufti Gulzar Ahmad Naeemi, Saqib Akbar, Allama Arif Hussain Wahidi and representatives of other religious organizations participated.
It was decided after consultation in the meeting, a grand unity conference will be organized by MYC in the month of Rabiul Awwal hosted by Majlis Wahdat Muslimeen Pakistan, in which all the organizations included in MYC will participate.
It was decided to ratify the office of MYC, to hold elections for MYC Azad Kashmir under the leadership of Liaquat Baloch and also fully agreed that in the Transgender Bill the decision to determine gender should not be individual, which would lead to social unrest. Rather, the medical board should make a decision and determine the gender correctly and no human being should be deprived of his basic rights and inheritances.
Representing Majlis Wahdat Muslimeen Pakistan in the meeting, Central General Secretary Syed Nasir Abbas Shirazi said that the global colonial powers want to interfere culturally in the country, which will make the environment un-Islamic.
We have to stand against such un-Islamic tactics on the next Friday, Imam Juma should also present their viewpoint regarding this bill.