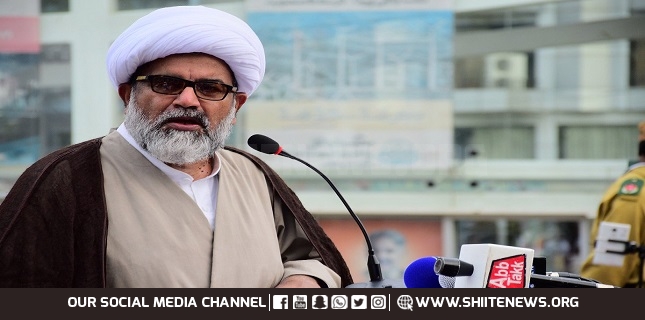 Shiite News: The chairman of Majlis Wahdatul Muslimeen (MWM) Pakistan, Allama Raja Nasir Abbas Jafari, strongly condemned the visit of the Pakistani delegation to Israel under the leadership of former Pakistani minister Naseem Ashraf, calling it an open denial of the ideological basis of Pakistan and the edicts of the founder of Pakistan.
He said that the gradual increase in visits to Israel by well-known political, social and journalistic figures cannot be ignored.
The ties with Israel are being increased in an imperceptible way, behind the scenes of these secret visits with the Zionist state, the goals are not hidden.
The effort being made to pave the way for the recognition of Israel will never reach completion. The hearts of twenty-two million people of Pakistan beat with the Palestinians. Those who have little sympathy for the Zionist tyrant state are traitors to the religion of Islam and the Muslim Ummah.
He said that the powers in Pakistan want to promote a specific narrative in support of Israel. They are the victims of misunderstanding as the intelligent people of Pakistan have been and will always be against the tyrannical state that is shooting at the first Qibla, targeting the worshipers and their supporters.
He said that for the survival, it is not necessary to please America and Israel, but to protect Pakistan's ideological and geographical borders and express public aspirations.
The government of Pakistan should clarify the status and objectives of these visits to Israel. How and why a Pakistani delegation was allowed to visit a country whose passport is not valid for visiting Israel.