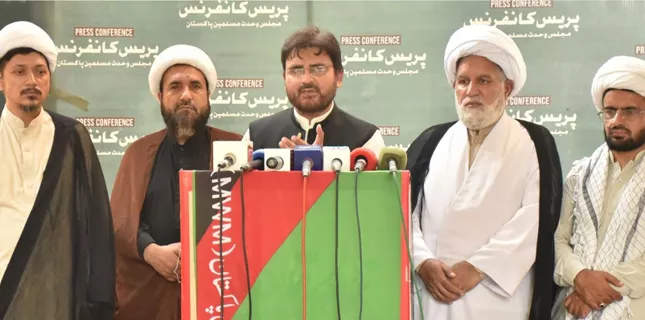 Shiite News: Central General Secretary of Majlis Wahdatul Muslimeen (MWM) Pakistan, Syed Nasir Abbas Shirazi, while addressing an emergency press conference, said that Pakistan is going through the worst flood situation at the moment, but unfortunately, the role that the state should have played has failed to play.
Despite the flood situation, processions of Chehlum Imam Hussain have been held in the affected areas and it is regrettable to say that FIRs have been registered against the citizens who participated in the processions on the occasion of Arbaeen Hussaini.
Abdullah Shah Ghazi, Dataganj Bakhsh Hajveri, Shahbaz Qalandar or other saints of religion in the country, people participate on foot in the shrines and Urs.
Will there be restrictions on walking now? Religious freedom is given to us by the Constitution of Pakistan. Every city has a time difference from another city and this difference keeps going back and forth in Ramadan fasting and Taraveeh and other acts of worship.
The work of the state is to provide facilities, on the contrary, they are trying to wall up, it seems that there is no opposition party in front of us, the state is the party everywhere.
He further said that these FIRs have also been registered in a very unreasonable manner, that if the procession is delayed by fifteen minutes, then this brutal action has been taken.
For the last forty-five years, no new routes permit has been issued for the procession. While the population increased a lot, people cannot give up participation in prayers and processions according to their beliefs.
And they were put in the fourth schedule. Metro bus service of Pindi, Islamabad and Lahore have been stopped, Is this facility not available for our people ? Hurdles, barricades and difficulties were created for the procession in which people participated on foot.
Thirteen FIRs have been registered in Multan and taken action under the Anti-Terrorism Act in Sargodha. The attempt to include a trustee in Nowshera and the unsuccessful attempt to conduct the main procession of Karachi on administration will is not acceptable in any way, but it is a cowardly attempt to interfere in our basic internal affairs.
In Islamabad too a false FIR has been filed against the founder of Imam Bargah G-7 and he is being harassed continuously, which is causing concern in the entire nation.
In Sialkot, the procession of Chehlum Imam Hussain AS was also targeted and stones were thrown at the mourners, culprits should be brought to justice.
We want to make it clear to the government that mourning Syed-ul-Shohada is our red line. Quaid Shaheed Allama Arif Hussain Al-Husseini said that just as a fish cannot survive without water, so we Shias and Sunnis also cannot survive without mourning.
We all will defend it, so all these FIRs should be dismissed immediately and no discrimination should be allowed. MWM calling a meeting of the Central Mourning Council of Pakistan. In which the future action plan will be announced.