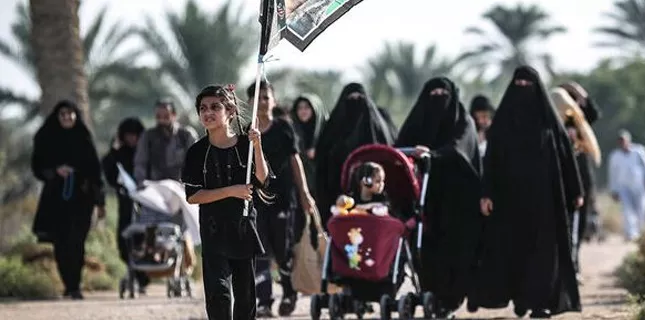 Shiite News: Every year there is a large number of women in Arbaeen pilgrims and it is predicted that this year more than 35 percent of the great gathering will be women.
In this regard, the number of Moukabs to serve women pilgrims has been increased by Iranian servants in recent years.
In this regard, about 200 Iranian Moukabs will serve women in different cities of Iraq. Despite the presence of security in Iraq during Arbaeen, women should pay attention to certain points so that they do not face any problems on the way of pilgrimage.
These points are as follows:
1. During the pilgrimage of Arbaeen, while respecting the culture of the host country Iraq, avoid actions and activities that may create tension among Iraqis.
2. Women should go for Arbaeen, Ziyarat with their family or their relatives in a small group or caravan.
3. There is a lot of security in Iraq, but avoid going off the main road, avoid going to deserted and crowded places.
4. Don't go off the main road and to the Iraqis' houses alone, just rest on the Moukab.
5. Avoid staying at any Moukab for more than a day, so that other pilgrims can also benefit from this facility.
6. Avoid make-up as much as possible, and even avoid using sunblock in public places or events.
7. Iraqi women wear a black cloak instead of a colored one for hijab, so you should also wear a black cloak on the pilgrimage route.
8. Before leaving for the Moukab, arrange a place and time to meet your companions again.
9. Avoid discussing political issues and divisive points at the procession or during the journey, but focus on the main objective, which is to create unity.
10. Eat whatever food they bring you, no matter how small, and thank the Iraqi women for their efforts, and if possible, give gifts to their children.
11. Carry the necessary supplies for your journey and do not expect any service from the Iraqis. Also, avoid bringing gold ornaments and valuables.
12. Necessary facilities are provided for women in Iraq on Iranian Moukabs. So, apart from the possibility to rest in these Moukabs, ladies can use the facilities provided in these Moukabs such as baby and mother room, distribution of hygiene items and even medical and traditional medicine services.
Sooner the details of more than 100 Iranian women's Moukabs will be released.