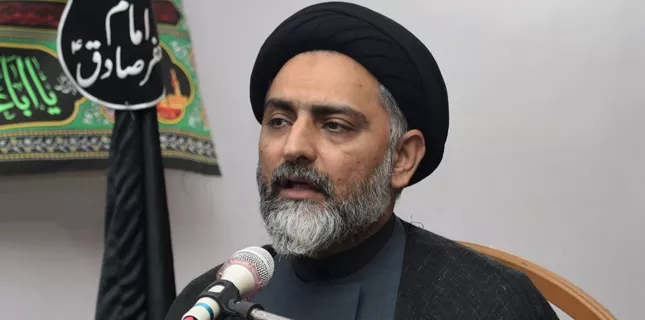 Shiite News: The renowned scholar of the country,cukhari, while addressing the Majlis-e-Aza at Imambargah Abu Talib QatalGah Skardu, said that the teachings of the Grandson of the Prophet Hazrat Imam Hussain (A.S) are a source of guidance for all Muslims.
"Every step of Imam Hussain A.S is a step of guidance for mankind, Imam Hussain (AS) through his six-month-old son exposed all the conspiracies of Yazid and the family of Yazid" Nusrat Bukhari opined while addressing Majlis-e-Aza.
He said plans are being made to corrupt the youth worldwide, so youth beware, misuse of social media is an invitation to hell fire.
He said that the real Inheritor of mourning for Imam Hussain A.S is The Imam of the time (AJTFS).
The method of Yazidi system has changed, now killing, putting in jail is not a part of Yazidi system, but now spreading the minds of the youth is an important part of Yazidi system, social media tool is being used for this.
He said that the young generation should prepare themselves for the challenges.