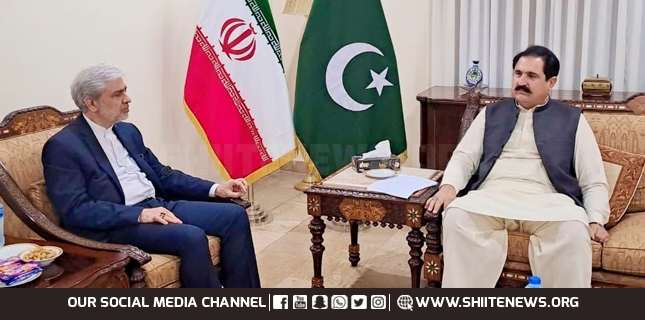 Shiite News: Federal Minister for Overseas Pakistanis, Sajid Hussain Turi met Iranian Ambassador to Pakistan Syed Muhammad Ali Hussaini on Tuesday.
Pakistan-Iran bilateral trade and cultural relations were discussed at this occasion.
Federal Minister Sajid Turi and Iranian Ambassador Syed Mohammad Ali Hussaini discussed the problems facing by the Zaireen and resolve to provide facilities to the pilgrims.
The Iranian ambassador expressed his best wishes to Sajid Hussain Turi on assuming the post of Federal Minister.
On this occasion, Sajid Hussain Turi said that Iran and Pakistan have an eternal historical, spiritual, fraternal and cultural relationship.
Turi said that there are millions of pilgrims go to Iran and Iraq on Arbaeen-e- Imam Hussain (A.S), he urged Iranian Ambassador to grant double entry Iranian visas to these pilgrims.
Sajid Turi further said that Mehran and other borders should be opened for pilgrims and the problems faced should be resolved, pilgrims should be allowed to enter land routes and buses.
On this occasion, the Iranian ambassador said that caravans of pilgrims are being given entry at Mehran border and other borders, inns with all facilities have been established on land routes to serve Pakistani pilgrims.
He assured that efforts are being made to solve all the problems faced by the pilgrims at the earliest.
Sajid Hussain Turi also demanded the release of Pakistanis involved in minor crimes, to which the Iranian ambassador said that Pakistanis involved in minor crimes would be released soon.