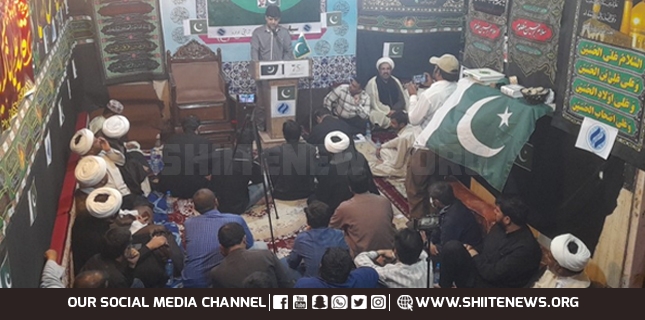 Under the auspices of an Intellectual forum "Siyasiyat" Pakistan Independence Day ceremony was held in the holy city of Qom of the Islamic Republic of Iran.
The title of this session was "Qiyam-e-Pakistan kay Maqasid, Masil Muskhkilat aur Rahe Hal" mean "Pakistan's Objectives: Problems, Difficulties, Solutions".
Pakistani researcher and analyst Hujjat-ul-Islam Mufti Amjad Abbas discussed about the Constitution of Pakistan.
He shed light on useful articles and explained the difference between constitution and law.
Hujjatul Islam wal Muslimeen Zwar Hussain Alvi discussed about the objectives, difficulties and solutions of Pakistan, Quaid-e-Azam Muhammad Ali Jinnah and Allama Muhammad Iqbal may Allah have mercy on him.
He described the dreams and manifestos to create Pakistan.
Condemning some Islamic countries' recognition of Israel and restoration of diplomatic relations with it, he said that some sources are also talking about Pakistan's relations with Israel and restoration of diplomatic relations with it, which is against Jinnah's ideology.
We strongly condemn it. The next speaker of this session Syed Salman Naqvi, the patron of Madrasa Imam Ali (A.S.) During his speech, he said that Pakistan came into existence in the name of Islam and the Constitution of Pakistan states that no law of this country shall be contrary to Quran and Sunnah.
He further said that the Islamic Republic of Pakistan is the only Islamic country, which is a nuclear power and similarly Pakistan is a very important country in terms of location.
In the end, Director of the Institute of Political Science, Hujjatul Islam Wal Muslimin Muhammad Saqlain Wahidi congratulated the participants on the Independence Day of Pakistan and thanked them and said that as Pakistanis, the dear country of Pakistan has the right to know the aims and objectives of the establishment of Pakistan.
It is worth mentioning that Nazar Abbas Saqib performed the duties of Nizamat in this meeting and internationally renowned poet Syed Ahmed Shehryar received praise from the participants with poems about the dear country of Pakistan. The meeting ended with the supplication of Imam-e-Zamana (AJTF).