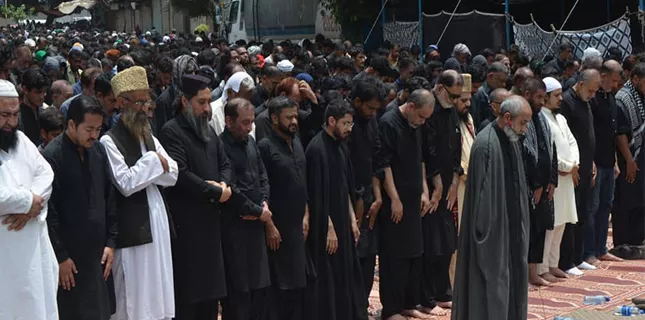 Shiite News: A Wonderful Shia-Sunni unity demonstration held at Ashura procession in Karachi, when Shia, Barelvi, Deobandi, Ahl al-Hadith stood in a row on Ashura Day in Karachi.
According to details, during the main procession of Ashura in the city of Qaid, the Sunni scholars also participated in the main prayer held at the Tibet Center and gave the message to the people of Pakistan that the grandson of the Prophet Hazrat Imam Hussain (AS) is the point of unity among all Muslims.
A delegation led by Maulana Muhammad Amin Ansari, the founder and leader of Muttahida Ulema Mahaza alongwith other Ahl-e-Sunnah Ulema participated in the prayer.
Allama Hafiz Syed Haider Naqvi led the cumulative prayer, while on the occasion senior politician Farooq Sattar, MWM leader Ali Hussain Naqvi, Allama Sadiq Jafri, Allama Mubasher Hasan and ISO Karachi President Debaj Abidi were also present.