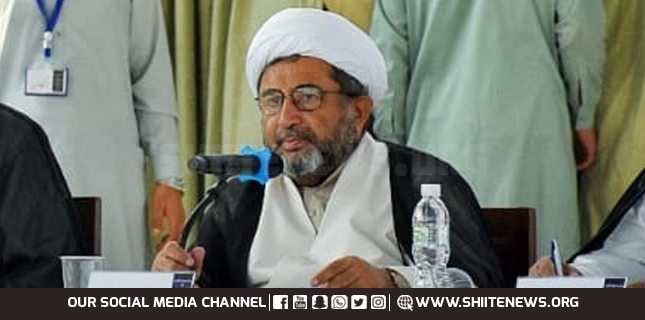 Central Vice President of Shia Ulema Council (SUC) of Pakistan Allama Arif Hussain Wahidi attended the Peace Conference organized by Pasban Watan Welfare Foundation at Arts Council Hall Rawalpindi and met with the Youth of Shaheen Peace Force who have volunteered for security duty during Muharram.
Allama Arif Hussain Wahidi, in his speech, thanked Pasban-e-Watan Chairman, Chaudhry Khursheed Anwar for organizing the peace conference and said that the month of Muharram is observed in memory of the great sacrifice of the grandson of Prophet Imam Hussain (peace be upon him) for the revival of Islam.
The martyrs of Karbala are commemorated by every class of thought, even non-Muslims, to highlight the universal message of reviving human values.
Pakistan is our beloved homeland, which we liberated after a great struggle in the name of Islam. Everyone in the country conducts programs according to their faith, but it is a pity that certain sectarian elements try to harm inter-religious and inter-ethnic harmony in this country, but thank God that all the patriotic people and the scholars have played their role in defeating the evil elements and strengthening the foundations of the country by giving a strong message of the unity of the Ummah.
At the end of the conference, Allama Arif Hussain Wahidi distributed shields among the workers and officials.